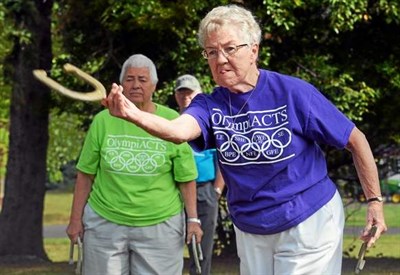 Sure, there's competition between the athletes in the OlympiACTS, but taking home the gold isn't the only way to walk away a winner.
"You want to do well, but it's all about getting together," said Pat Lucas, a Gwynedd Estates resident who competed in horseshoes and in bocce, where she and teammate Kate Maguire took first place.
"It's friendly competition. It's a lot of fun," said Ron Keppler, a Spring House Estates resident who competed in horseshoes. "It's the enjoyment of getting out with others."
This was the ninth year for the OlympiACTS, held this year on Friday, Sept. 19, at Gwynedd Estates in Lower Gwynedd, Ryan Beardsley, ACTS Retirement-Life Communities public relations manager, said.
More than 120 seniors - 90 competitors and 30 cheerleaders - from eight ACTS communities in Montgomery, Bucks and Delaware counties took part, Beardsley said. The ages of the participants ranged from 72 to 95, he said.
The games are held in September because that's Healthy Aging Month, he said.
"We're trying to break the mold of when you move into a retirement community, you have to settle down," Beardsley said. "A lot of these residents are more active in retirement than they were before retirement."
Competitions were held in horseshoes, shuffleboard, billiards, bocce, Wii bowling, Minute to Win it, ping pong and brain games.
Opening ceremonies included a rousing visit by Swoop, the Eagles mascot.
This year's theme was "Family Reunion" and carried the tagline, "a day of fun, fellowship and friendship."
"We're family here," Eric Tatlonghari, Gwynedd Estates executive director, said. "We get to care for each other and love each other and have that dysfunction together families have."
State Sen. Stewart Greenleaf, R-12, told the participants it's important to be active and do what's right for them.
"There's always obstacles in our way, but you're not letting any obstacles in your way," Greenleaf said. "You live your life and don't let anybody put restrictions on you."
"It's terrific to see all of you here and all the energy," state Rep. Todd Stephens, R-151, said. "Remaining active is important at all stages of life."
Keppler, who is first vice president and will become president in November of the Spring House Estates Residents' Association, said some of the other things he's active in include the Spring House Estates chorus.
"We put on two shows a year, spring and Christmas shows, for our residents," he said. "We pack the hall."
He and his wife also lead a monthly hour-long songfest in two assisted living communities at Spring House Estates, he said.
"My wife, Liz, plays the melodica and I lead the songs," Keppler said.
"We bring some fun and laughter and cheer to them," he said, "and we hear wonderful stories from the residents about their lives."
His wife also volunteers with an exercise program for people with dementia, he said.
Lucas, who played alone and from both ends in last year's OlympiACTS horseshoes competition because her teammate was ill, won the 2013 gold.
Lucas said she practices "a little bit," but doesn't play a lot of horseshoes in between the competitions.
"When I was younger, I played a lot," she said. "I always did sports, a lot of sports."
The bocce court at Gwynedd Estates was added recently, she said.
"It obviously helps out with the OlympiACTS, but they had been wanting to put it in anyway," Beardsley said.
Harry Heckler, of Fort Washington Estates, competed in ping pong.
Asked if he plays it a lot, he said he plays "every now and then."
"I played as a kid, of course," Heckler said.
Other activities he's involved in include bicycling, Heckler said.
"I like to go skiing in the winter," he said.
He also dances, he said.
"I get more exercise out of dance class than I do from exercise class," Heckler said.
He said moving to the retirement community doesn't mean he has to stop doing the things he used to do.
"What I do living at Spring House Estates is the same as I did when I lived in Ambler in a three-story single-family house," he said.
Last year, he competed in shuffleboard at the OlympiACTS, he said.
"This is fun. I know people from all the other communities," Heckler said.
He also sometimes takes part in programs at some of the other communities, he said.
"I just find out what's going on and if it appeals to me, I go there," Heckler said.
George Long and Dave Clapper, of Southampton Estates, were this year's winners in the horseshoe competition. Bob Lamont, of Gwynedd Estates, took home the gold in billiards. Olga Thornton and Joan Johnston, of Lima Estates, won Minute to Win It. Tom Nurse, of Brittany Pointe Estates, took the gold in ping pong. Kate Maguire and Pat Lucas, of Gwynedd Estates, won in bocce. Betty Coogan and Joe Biddle, of Brittany Pointe Estates, won in shuffleboard. Pete Schettler, of Lima Estates, took the gold in brain games. Elizabeth Brecht, of Granite Farms Estates, won Wii bowling.