When life gave John Hartigan lemons, he made lemonade.
Hartigan was born with spina bifida that kept him from growing big or tall. It stopped him from playing sports when he was younger. He wanted to be a baseball pitcher in high school but didn't make the team. He tried to play tackle in football, but his mother would not allow it.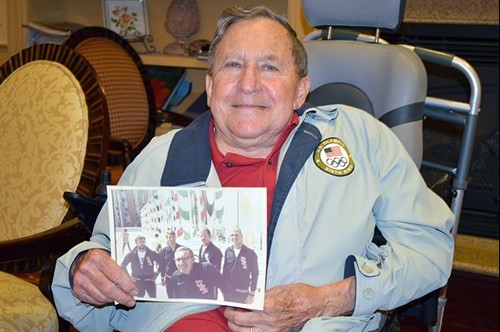 Instead, Hartigan became the manager for the baseball and football teams. That wasn't enough. He always wanted to be more involved in sports.
As a freshman in college at the University of Pennsylvania, the rowing coach asked Hartigan to come out for the team to be a coxswain — the person on the boat responsible for steering and motivating the oarsmen.
By his junior year, Hartigan was with the first boat at Penn. That year he got to compete at the Henley Royal Regatta in England.
"It's funny," Hartigan said at his current home — Normandy Farms Estates retirement community in Blue Bell — Friday afternoon. "All of the things that I considered to be birth defects all turned out to be positives when it came to rowing. I was small. I was real light. I had a big voice."
He graduated from Penn in 1964 and four years later he earned a trip to the Olympics in Mexico.
There was one part that still stands out in his memory.
"I went to Mexico," he said. "That was my first Olympics. The first jolt I got was you really didn't think about the significance of what you were doing. They lined us up to march into the stadium. There was a big long line. Behind us was Canada and in front of us was Germany. We go marching in as a group and we go down this long dark tunnel. ... All of the sudden we come out into the open and we're inside the stadium. There were 100,000 people there. All of the sudden they're cheering. I got goose bumps and I went, 'Oh my God, I finally made it.' It was quite the experience."
He was back at the Olympics eight years later in 1976 in Quebec, Canada.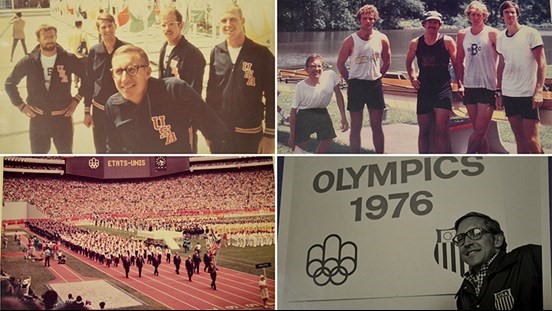 Hartigan's boats finished fifth in 1968 and 11th in 1976.
"What you have to realize is, we came in fifth in the 1968 Olympics," he said. "We were depressed. My coach looked at me and said, 'John, you're fifth in the world.' That made me and the rest of the oarsmen feel a lot better." 
Between the two Olympics, he won gold medals at the 1974 World Championships in Switzerland and 1975 Pan-American Games in Mexico.
"The World Championships was strictly rowing," Hartigan said, comparing the two to the Olympics. "They had a nice crowd, it was good. The Pan-Am Games were very similar to the Olympics. They were focused on Venezuela, they were focused on Mexico or wherever it was. All of the events were very festive. It was just a great time. Countries want to put on their best clothes for everything. They make it really nice. The food was outstanding, the rowing was great.
"Getting first in the other events and getting fifth in the Olympics, it's all part of the big picture. Nobody says, 'I got this and I didn't get that.' Nobody does that. Everybody wants to win an Olympic medal, but it's a tough thing to do. It's a tough thing to do especially in rowing because rowing is very big in Europe. Germany, Russia they all put out great crews."
Hartigan grew up in Chicago before coming east to attend college at Penn.
After graduating he got a job at a local pharmaceutical company, SmithKline (now called GlaxoSmithKline), where he met his wife who he is still with nearly 47 years later. Both his wife and his job were very supportive during his time away for the Olympics.
He continued to row after he finished competing internationally and will be tuning in to the 2016 Games in Rio.
The above article appeared in the Lansdale Reporter. To view on their website, please click here.