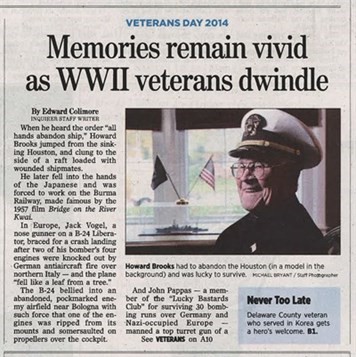 When he heard the order "all hands abandon ship," Howard Brooks jumped from the sinking Houston, and clung to the side of a raft loaded with wounded shipmates.
He later fell into the hands of the Japanese and was forced to work on the Burma Railway, made famous by the 1957 film Bridge on the River Kwai.
In Europe, Jack Vogel, a nose gunner on a B-24 Liberator, braced for a crash landing after two of his bomber's four engines were knocked out by German antiaircraft fire over northern Italy - and the plane "fell like a leaf from a tree."
The B-24 bellied into an abandoned, pockmarked enemy airfield near Bologna with such force that one of the engines was ripped from its mounts and somersaulted on propellers over the cockpit.
And John Pappas - a member of the "Lucky Bastards Club" for surviving 30 bombing runs over Germany and Nazi-occupied Europe - manned a top turret gun of a B-17, firing at enemy fighters while cities burned below.
His plane was perforated by heavy flak, including one spent piece of shrapnel that struck the back of his leg before falling harmlessly to the floor.
Brooks, 95, of Mount Laurel; Vogel, 89, of Blue Bell; and Pappas, 89, of Cherry Hill, are among an ever-shrinking number of veterans who give riveting accounts of service seven decades ago.
But as another Veterans Day passes, the voices of many of their comrades have fallen silent. U.S. World War II veterans are dying at a rate of more than 550 a day. Only 1.2 million of the 16 million who served are left - 55,000 in Pennsylvania, 27,000 in New Jersey, and 3,800 in Delaware.
Many have shared stories with family members around the kitchen table, or before students at school assemblies and crowds at veterans events.
Their stories have been collected by the Library of Congress and National Archives as well as museums and universities across the country even as the "greatest generation" - now mostly in their 90s - fades away.
The job of carrying on their memories has been taken up by their children, too. Andy Waskie, historian, author, and Temple University professor, became president of the Eighth Armored Division Association, a national veterans group that was on the verge of dissolving in 2009. His late father served in the 12,000-member division.
"It's worth all the effort to keep this going until the last veteran is gone," said Waskie, whose association now has only 150 members, with about 12 attending the last reunion. "I will keep working to make sure they're not forgotten.
"In their early days as veterans, they didn't want to think about the war," said Waskie, of Philadelphia's Fishtown section. "But as they grew older, they wanted to share."
Veterans often "tucked horrible memories away," said historian Paul W. Schopp, a Riverton resident whose mother served in the WAVES and whose father served in the Army, building roads in Iran. "They gritted their teeth, came home, married their sweethearts, and moved on with their lives.
"I can't tell you how many people from our generation couldn't get their fathers to talk about the war," he said. "Then, you hear stories of veterans going to a movie like Saving Private Ryan and leaving the theater sobbing."
For veterans such Schopp's mother, Jane Elizabeth Schopp, 91, of Riverton, the war might not have meant combat - just long hours of service.
"I didn't see the world, but I saw some states" while training as a storekeeper, said Schopp, who served at the Mercer Air Field at Trenton. "At one point, I knew all the parts of a plane from tip to tip."
One of those fighting was Howard Brooks. The war became deadly serious for him on March 1, 1942, when the Houston, a heavy cruiser, was repeatedly hit by Japanese fire off the coast of Java. He was among 291 - out of 1,068 crewmen - who survived, even after the Japanese raked the waters with gunfire.
His raft later washed up on shore, where he was captured and eventually transferred with other POWs to work the next 21/2 years on the Burma Railway. "We started with picks and shovels," Brooks said. "There was nothing to make it easier - not even wheelbarrows.
"At the very end, we worked on a bridge," he said. The movie - where the span was blown up - "makes a beautiful story, but nobody did any damage to it."
Brooks and other POWs were later moved to Saigon, while American bombers - like Vogel's - were pounding Nazi targets across Europe.
"To be honest, I don't believe in luck," said Vogel, a resident of the Normandy Farms Estates retirement community and a native Philadelphian who attended Olney High School. "I think it's all preordained. . . . There's no reason I should be alive today."
On Valentine's Day 1945, Vogel's B-24 and scores of others headed to a railroad marshaling yard in Vienna, passing through a wall of antiaircraft fire from enemy guns.
"You can't hide 100 B-24s," said Vogel, who was then 19. "You just prayed."
On another bombing run intended to strike targets in Italy's Po Valley, his plane was hit by enemy fire, lost two engines, and was falling as the crew threw out "everything that wasn't nailed down."
The bomber crash-landed between the Germans and advancing Americans - and crew members were hiding in nearby woods when they "saw that big white star on an American truck. It was one of the best days of my life."
In his B-17, John Pappas cheated death over and over again during 30 bombing runs over Berlin, Frankfurt, Merseburg, Hamburg, and other targets in Germany as well as one in Holland.
"On every mission, I was the only one who took a .45" caliber handgun, he said. "They weren't going to take me alive. I was going to shoot my way out if we got knocked down."
His plane - dubbed "Perry's Pirates" after pilot James Perry - was not only repeatedly peppered by flak but sometimes ran out of fuel and was forced to land on other airfields.
"I fired at German fighters when I saw them," said Pappas, who was constantly on the lookout in his top gun turret. One time, a bomber "on my left got a direct hit in the tail and spiraled down.
"A friend of mine was in that ship," he said. "I had gotten to know him very well and wrote his girlfriend about what happened."
The bomber's destruction was "about as close as it got to me," Pappas said. "I was very lucky."
After the war, the veterans went on with their lives, but deep emotions tied to a war long ago have not dimmed. They'll forget today's appointments but keep detailed memories of sights, sounds, and smells 70 years ago.
"We were one of the first [bomber groups] that came back home, and Savannah [Ga.] treated us wildly," Vogel said. "When we got near, we lined up in a V-formation and peeled off like fighter planes.
"Boy, oh boy, did the city go wild!" he said. "People were lined up on the runway, cheering."
Vogel paused for moment. He couldn't speak. It was as if it had happened yesterday. "It brings a frog to my throat," he said.
http://www.philly.com/philly/gallery/20141111_Memories_remain_vivid_as_WWII_vets_dwindle.html?viewGallery=y