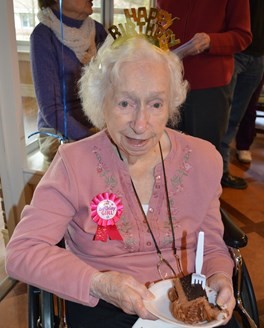 Helen Chamberlain, a resident at Spring House Estates, an ACTS Retirement-Life Community in Lower Gwynedd, celebrated her 108th birthday on Thursday. To celebrate, friends and family joined Helen for a party at the community.
Chamberlain was born in Weatherly, "somewhere in the middle" of eight children. One of her earliest memories is hearing news on the radio of the Titanic sinking in 1912; Chamberlain was six years old.
After high school, Chamberlain studied nursing at Sibley Memorial Hospital in Washington, D.C., and worked as a nurse there for six years before returning home. She eventually worked as a nurse for a physician in a private practice in Weatherly.
When asked what has contributed to her longevity of 108 years, she said, "I had the most wonderful parents and family, we were never cross with each other. I have had a happy life."