Gee Fettes on living in paradise: "It's a big relief to leave all your responsibilities."
"I just love this community; it has something for everyone," Gee Fettes said. "Everyone is so friendly. I felt welcomed right away."
Gee and her husband John moved into their Boca Raton senior living community in 2021. With its serene landscaping, lakes, walking trails, birds and wildlife, St. Andrews Estates stood out from other retirement and 55+ communities.
"I've lived overseas most of my life, working in the federal government and growing up as a foreign service family. I always wanted to have a European lifestyle and being able to walk everywhere," she said.
"At St. Andrews, I can walk to the grocery store, a zillion restaurants, and the best mall practically in South Florida, certainly in Boca Raton," Gee added.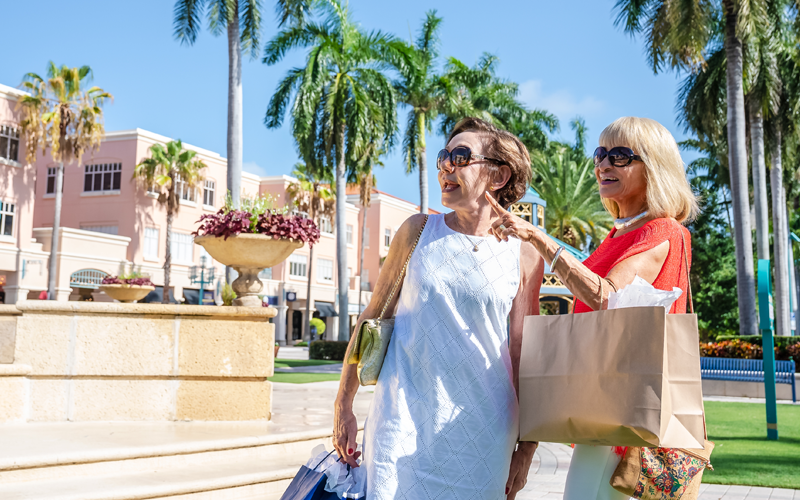 "My husband loves to golf; we traveled the whole coastline and wanted to live near Palm Beach," she said. While her husband John hits the golf course three days a week, Gee enjoys meeting up with friends, taking up fitness classes, clubs, and activities. She also coordinates resident happy hour social events.
"The social scene is what everybody makes of it. You can do everything, or nothing at all," she said. Transportation is never an issue if you need a ride. "I can go to plays, the gardens, the beach. Our drivers can even take you to doctor's appointments."
Being so active at her community, she spends time doing what she loves, stress-free without the constant maintenance that comes from owning a home. "It's actually a big relief, really, because when we left our house, we left all those responsibilities with it," she said.
St. Andrews Estates, part of Acts Retirement-Life Communities, is not your typical 55+ community. By moving in, the Fettes have access to Acts Life Care, allowing them to prearrange for their future healthcare needs with one predictable monthly fee, which is also tax deductible. If Gee or her husband ever have additional needs, like assisted living or skilled care, it's conveniently accessible on the same campus.
"I'm the planner of the family," Gee said, "Since we don't have children close by, I think if anything should happen to my husband or me, it's comforting to know that there's a lot of support here."
"One of us will be taken care of, and the other one can stay in the apartment where we live now, and we absolutely love our apartment," she added.
Call (561) 487-6200 today to visit St. Andrews Estates, and we'll give you a tour! You can also learn more about scheduling a visit to one of our other campuses!