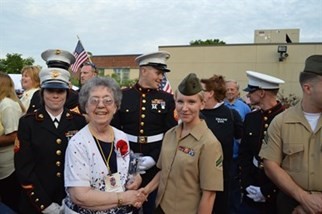 They said they remember exactly where they were and what they were doing Dec. 7, 1941 - the day the Japanese bombed Pearl Harbor.
Mt. Airy native Frank Hartung, 87, said he was next door at a friend's house playing Monopoly when he heard the news on the radio. Helen Collins, 91, formerly of Jenkintown, said she had just taken a bath when the paper boy came knocking on the door shouting about Pearl Harbor.
Hartung and Collins said they were angry by the news and were propelled to take action.
"Pearl Harbor was the main reason I and all of my friends enlisted," Hartung said July 11 at Spring House Estates, an ACTS Retirement-Life community for seniors in Lower Gwynedd, where he and Collins reside. "Everybody was doing it, so I did it. At the beginning, everybody had feelings of disbelief - 'how could this happen to us?' My friends and I started to talk about how we could [help] right away."
Hartung enlisted in the Navy and reported for active duty 10 days after graduating from Germantown Friends High School in 1945. He was 18 years old.
Hartung participated in a Navy aviation training program in the south, and during his first year of training, Japan surrendered to American forces ending WWII.
By wars end, 3.3 million men were serving in the Navy, according to the National WWII Museum.org.
Although Hartung was not involved in active combat, he said he had friends who were. Some made it home and others did not, he said.
After graduating from Jenkintown High School in 1941, Collins worked for three years as a bookkeeper for Philadelphia Insulated Wire.
In May 1944, a 20-year-old Collins enlisted in the Marine Corps and headed to basic training at Camp Lejeune in North Carolina.
"I'm of German descent, so I just figured while all my relatives are fighting for Hitler, I was going to fight for Uncle Sam," Collins said.
The women did not train with the men and had separate training facilities at the camp, Collins said. After training, she went to work in Cherry Point, N.C., as a paymaster and was responsible for paying the troops - the officers and the enlisted, she said.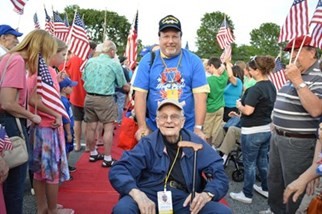 "I had a hard time with my father; he didn't want me to join," she said. "People just weren't happy about women joining the service. I guess he heard those rumors. My father just didn't want me going away. I finally wore him down with posters and pamphlets when he came home for dinner."
More than 288,000 women served in the U.S. Armed Forces by the end of the war, according to the WWII Museum website. The Army, Navy, Coast Guard and Marine Corps became dependent on women to do stateside jobs, as well as help overseas.
"Many of the southern women thought we were terrible," Collins said. "They didn't know why we had to be in the service. Evidently, they didn't read the poster that said 'Free a Man to Fight.' Everywhere we went they would comment and say, 'Why on are earth did you go in the service?' [or] 'What's a nice girl like you doing here?'"
Hartung and Collins said they never considered their service in WWII as a sacrifice, but believed they were doing their civic duty.
However, local organization Honor Flight Philadelphia considers the contributions of servicemen and women during WWII very significant. Because of that, they arrange special trips for local veterans to visit Washington D.C. and the National WWII Memorial.
Established in 2006, the Honor Flight Network's mission is to provide veterans across the country, particularly WWII vets, with the opportunity to visit their memorial at no cost. There are 127 Honor Flight chapters in 41 states. At the end of 2012, Honor Flight had transported a total of more than 98,500 veterans to Washington to see their memorial, according to HonorFlight.org.
Hartung and Collins had the opportunity to visit the memorial June 21, with approximately 160 of their fellow vets. When they arrived, they were greeted with cheers, applause and many words of thanks from a grateful crowd of citizens.
Both Hartung and Collins had never been to their memorial before and were overwhelmed by the experience, they said. They described the WWII Memorial, which is situated on 7.4 acres and consists of a reflection pool surrounded by 56 granite pillars and two pavilions, as "spectacular."
"I was overwhelmed by the expressions of pride in what we did," Hartung said.
"[After the war] I learned I felt great pride in being part of a team - a winning team, at that."