Frank Miller calls himself a lucky man.
And the same luck that allowed the Lower Providence native to narrowly miss German shellfire during World War II has also helped him to outlive most of his comrades.
The doctor will turn 100 in December.
At a staff meeting Thursday night, Einstein Medical Center Montgomery in East Norriton - Miller's former employer - recognized him for his 50-year medical career as well as for his military accomplishments.
Those accomplishments include a Silver Star, a Bronze Star, and a nomination for the Congressional Medal of Honor, an uncommon feat for a battalion surgeon, said his son, Bill Miller.
He may be 99 years old, but, 70 years later, Frank Miller can still rattle off names of comrades and casualties as if the battles happened yesterday.
"Shells were coming every second," he recalled of one battle. "Luckily, I could find a house to create an aid station. Shells came through the roof."
Miller said he would never forget when his troop helped liberate Nordhausen, a Nazi extermination camp in central Germany for sick prisoners.
Despite experiencing such horrors, Miller said he had no trouble returning to civilian life.
"When I got back, I got back to work," he said
In a few months, Miller will also join the ranks of a growing number of local centenarians, those 100 or older.
Robert Pearlstein, a geriatric specialist, said he has 16 centenarians at his Norristown practice, and more than 1,000 live in the eight-county Philadelphia region, according to the 2010 census.
Over the last 30 years, the number of centenarians has more than doubled nationally.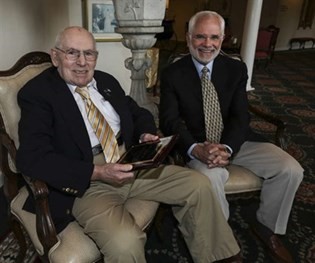 While Miller chalks his longevity up to luck, his daughter, Susan Dale, said her father was always active, never smoked or drank, and maintained friendships he formed during the war.
After his service, Miller, who grew up on a farm on the Perkiomen Creek, returned home to his late wife, Betty, whom he met on a blind date - another example, he said, of his trademark luck.
The couple raised four children - three boys and a girl - in Jeffersonville, while Miller made house calls and saw patients at Montgomery and Sacred Heart Hospitals.
Sitting in a bright common room at his current home, the quaint Normandy Farms Estates in Blue Bell, Miller lit up Thursday when asked about his 104th Infantry (Timberwolf) Division. After enlisting in the Army in his late 20s, Miller and his troop fought in Belgium, the Netherlands, and Germany in 1944 and 1945.
Harry Polsky, a vascular surgeon at Montgomery Hospital, bonded with Miller over the pair's military experiences and love of their alma mater, Ursinus College.
"He had a quick step to his walk," Polsky remembered of Miller. "When he came in the room, it was like the officer was coming in. He was always very energetic."
Miller made house calls in a suit and tie, and it wasn't a receptionist who answered the phone when patients called. It was Miller himself.
Despite his busy schedule, Miller never missed one of his son's swim meets, said his son, Bill.
As his children got older, Miller began to share more details of the war, and Dale said he taught her to appreciate military history by taking her to Valley Forge National Historical Park as a child.
Later, she accompanied him to yearly battalion reunions, where comrades still thanked him for saving their lives.
When patients ask him the secret to longevity, Pearlstein said he advises them to stay social and keep busy, even after retirement.
Dale described her father as unconditionally devoted to his country, patients and family.
At home, however, if she or her brothers were hurt, she recalled, it was her mother - an avid painter and sculptor - who offered medical advice.
"His thing was was, 'Kiss it and make it better,' " Dale said with a laugh.