The people who live at Magnolia Trace retirement community in South Huntsville are a close-knit bunch. They'll be celebrating Valentine's Day together with a dinner and dance this evening. Many couples there are also celebrating more than 50 years of marriage.
We spoke with two couples who've surpassed the 60-year mark, who shared stories of how they met and their thoughts on what can make a marriage last more than half a century.
Edwina and Newton Dodson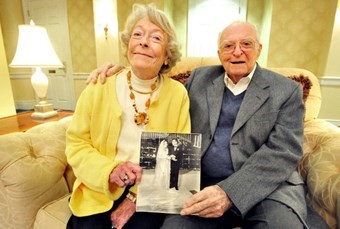 It was 1945, the night of the Sigma Chi formal at the University of Texas. Edwina, a history major, had been set up on a blind date with a handsome Sigma Chi named Newton Dodson.
"I'd just finished basic training in the Army and was on my way overseas," said Newton. The pair liked each other right away.
"He was a good dancer," said Edwina. "That's a good thing to have at a formal."
"She was so pretty," said Newton.
He left soon after to serve in the Pacific during WWII for two years. When he returned to the University of Texas after the War, Edwina was still there.
Edwina jokes that she's the one who asked Newton to marry her, but as he recalls it they were sitting in the car, parked outside the Chi Omega house.
"I just told her it was a good idea," he joked.
The couple married Sept. 4, 1948, more than 65 years ago. They have three children, eight grandchildren and five great-grandchildren - the fifth was born just a few weeks ago.
"I was telling my granddaughter the other day that I married the best-looking man at the University of Texas," said Edwina. "And he was in the other room and wasn't supposed to hear. But he called out, 'And it wasn't a small school!'"
Newton is the former mayor of Clarksdale, Mississippi; he was a director of mental health for 30 years, and also farmed cotton. Edwina worked in child welfare, at the library, and was active in volunteering. They moved to Huntsville a year ago from Mississippi to be near their daughter and her family.
How have they made their marriage last?
"He's a better cook than I am," said Edwina. "He was a good dancer and a lot of fun. He likes TV, I like to read. But we both agree on how we raised our children, and how we were involved in our church.
"And he doesn't argue," she joked, "so we don't get in fights. We laugh a lot."
Dr. Al and Jeanette Watson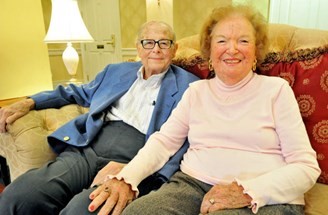 At a hospital in Baltimore in 1949, Dr. Al. Watson had recently finished medical school and was doing his internship. A dietician at the hospital named Jeanette caught his eye.
"She worked down in the kitchen, and I liked ice cream," said Al. "So at the end of the day I'd go down and get some ice cream."
"Extra ice cream," said Jeanette, who said his "pretty brown eyes" first caught her attention. The pair don't remember exactly how they got engaged, but they were married a year later on July 1, 1950.
They have five children, and have lived at Magnolia Trace for the last 10 years. They'll attend the dinner and dance at Magnolia Trace this evening, and although they don't dance anymore, Al said Jeanette used to love dancing. He didn't, but would dance anyway, just to please her.
"I think you have to really be committed and have things in common," said Jeanette, when asked her advice for a long-lasting marriage. "We both love to read and travel and things like that. And you have to have a sense of humor, too."
"And St. Louis Cardinals baseball," Al added.
"That, too," said Jeanette. When asked if she loved the Cardinals also, she joked, "Oh yes. I have to."
http://www.al.com/living/index.ssf/2014/02/local_love_stories_couples_mar.html