American Legion Post 390, which calls Lima Estates home, recently presented its annual Trooper of the Year Award to a well-deserving member of the Pennsylvania State Police.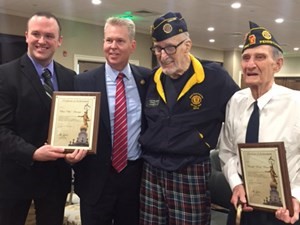 This year's ceremony was extra special in that State Rep. Chris Quinn along with members of the Middletown Council participated and presented certificates of achievement to WWII veterans and Lima residents Ollie Armitage and Woody Benson. The certificates were in recognition of their efforts in the planning and approval of a new veterans memorial in the town.
Sadly, Mr. Armitage passed within days of the ceremony, but we are grateful he could participate in the event and be recognized. As we approach the 75th anniversary of D-Day, it's a sad reminder of how few WWII veterans remain. Well done to the entire Lima Estates team for ensuring these heroes are honored at every opportunity.