Campus Revitalization Gives Fresh Start for Senior Living
Mary and George Drake never thought they'd be this happy at Fairhaven, an Acts-Retirement Life Community in Sykesville.
"I always said, we'd never live in an apartment," Mary said. Her husband George agreed, "We had only ever lived in houses."
"But we're a couple who make decisions fairly quickly. And after looking at other retirement communities, we knew Fairhaven had everything we wanted," Mary said, "We moved in two months."
The couple was happy in their previous residence, a 55+ community in a nice neighborhood, but started to learn about the health benefits of a continuing care retirement community from friends. Today, they are active, living independently with peace of mind and financial security for any future healthcare needs.
And to their surprise, they feel in love with apartment living.
"It's absolutely the best," said Mary, "Our apartment at Fairhaven is so bright, filled with light, and very nice. I recommend it to anyone looking, if an apartment is available, you get it!"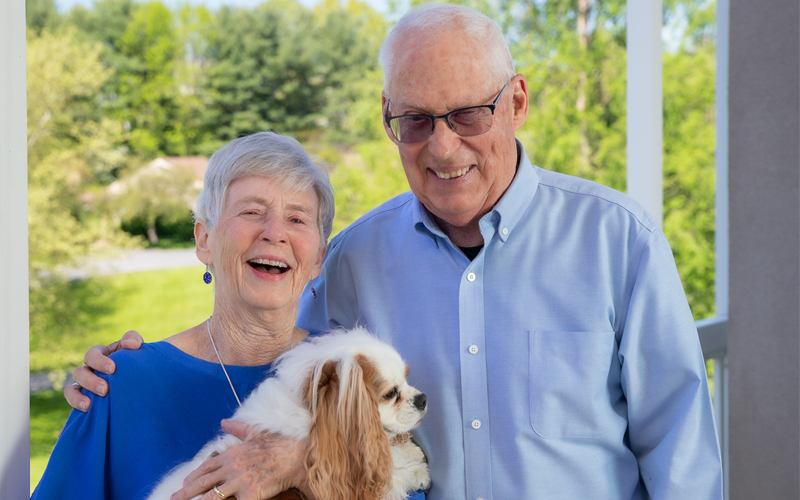 Fairhaven recently began renovations and wide-ranging campus improvements including new amenities, updated living spaces and beautiful outdoor green spaces to attract baby boomers and tomorrow's retirees. Fairhaven offers a plethora of floor plans from cozy one-bedroom apartment homes to multi-room villas and cottages, with plenty of choices to fit everyone's unique lifestyle.
Unlike other retirement communities, Fairhaven residents have access to Acts Life Care, health services, assisted living and skilled nursing, conveniently located on the same campus. With a one-time entrance fee and a predictable monthly rate, the Drakes escape the hassles and expense of home upkeep and maintenance to spend more time truly enjoying their retirement.  
Mary Drake loves the community's arts and craft amenities. "Some people knit and sew to relax, I relax with woodwork and crafts," she said. She recently carved a picture out of wood in the shop.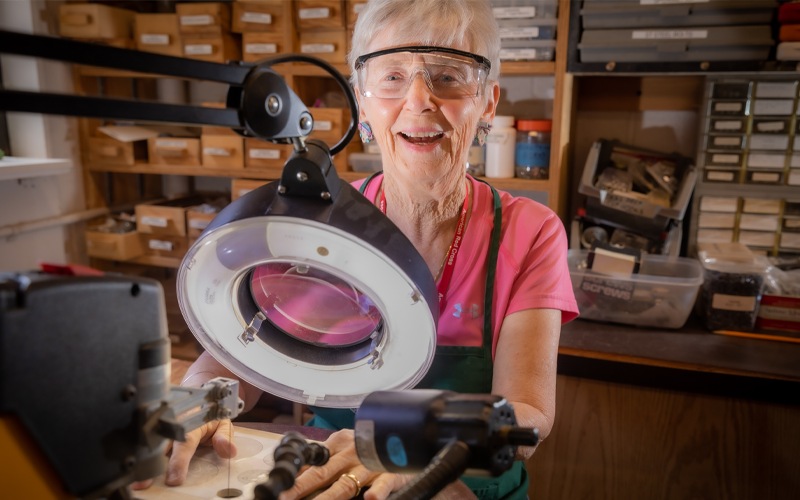 Her husband George enjoys the art studio, wood shop, ceramic studio, and getting close to nature on the scenic 300-acre wooded property, which is also designated as a bird sanctuary by the Maryland Ornithological Society.
"We like to hike and bike, living here with so many acres and trails, we love to get out in the community, it's the perfect place for us," George said, "It's wonderful if you have a pet too, with covered walkways you can easily get outside even in the rain."
 "Fairhaven is also in a great location, with lots of restaurants, shopping, department stores, groceries within 2.5 miles," Mary added, "The wonderful little town of Sykesville is so unique."
For the Drakes, living at Fairhaven provides safety and security, being part of a tight-knit community where everyone feels like family.
"You can see your friends every day, at activities or dinner, it's just cool," said George. "And the servers in our restaurant are local teenagers, good kids. It's nice to have young people around." 
The Drakes have three grown children who are very happy with their decision to move.
"Our daughter will turn 62 next year, and she and our son-in-law see how happy we are, and they are considering it," George said, "They like the concept [of prearranging for future health care]."
He added, "When we decided to live at Fairhaven, we talked to all our friends, emphasized to them to think about life care, and do it before it's too late."
To learn more about Fairhaven, call our life care consultants to ask about available floor plans and flexible pricing options, or schedule a private tour. Call today 410-442-6637.