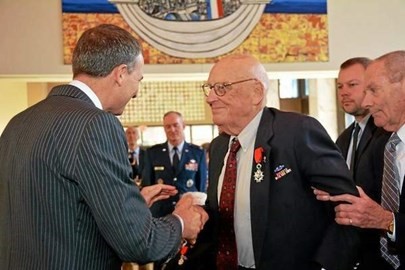 Nearly 70 years ago, young Curtis Deardorff served in the United States Army fighting to liberate the French people from Nazi Germany.
Seventy years later, Deardorff, a resident at Lansdale's Brittany Pointe Estates, an ACTS Retirement-Life Community, was honored at the French Embassy in Washington, D.C. for his personal contribution to the liberation of the country during World War II with the French Legion of Honor.
"They don't give out this medal to too many people - you have to be living," Deardorff, now age 92, said. "I am very pleased with the recognition."
Thirteen others were honored along with Deardorff on March 26, 2014 at a special ceremony at the embassy. Deardorff said he first heard about possibly being recognized with the Legion of Honor via a Brittany Pointe Estates newsletter, encouraging veterans to seek the recognition they deserved. After a process that generally takes two and a half years, Deardorff received a letter from the French Embassy informing him that we would be recognized.
Deardorff fought in the legendary Battle of the Bulge on Jan. 15, 1945, outside the town of Grande Halleux, Belgium. His outfit, the 2nd Battalion, 291st Infantry Regiment, 75th Division, relieved the 2nd Airborne Division and attacked the enemy, as they were "pinned down all day and night in an open field covered with over 18 inches of snow in 8 degree weather."
Deardorff said his unit suffered 30 killed in the action, 33 wounded and three missing in action. The First Platoon leader was wounded and confined to a wheelchair for life and the Second Platoon leader was killed, while Deardorff, the Third Platoon leader, was not hit.
In addition to his contribution to the Battle of the Bulge, Deardorff was honored for his unit's efforts, along with the French 5th Armoured Division, when they led an attack in the "Colmar Pocket" in France, outside of the town of Wolfgantzen.
Deardorff, who grew up in Lansdale and lived here his entire life lost longtime friend Lt. Edgar Hirzel in that battle. Hirzel attended York Avenue Elementary and Lansdale High School with Deardorff.
The battle lasted until Feb. 6 and Deardorff suffered a concussion from an incoming shell as well as frozen feet. He was put in a hospital in Paris, then was flown to England to recuperate. In 1945, Deardorff was honorably discharged from the Army, going on to be recognized numerous times for his service.
Deardorff received the Bronze Star, Combat Infantryman Badge, World War II Victory Medal, European Theatre of Operations Ribbon Medal, Rhineland Ribbon Medal and the Ardennes-Alsace Ribbon Medal.
After his service ended in 1947, Deardorff went to work at Lees Carpets, eventually becoming the Controller and Executive Vice President of Finance and Administration of Carpet Divisions of Burlington Industries after it merged with Lees Carpets.
Deardorf married his high school sweetheart Helen Long and they had two children, Barbara and Curtis, three grandchildren and two great-grandchildren.
"Though it happened many years ago, it's thrilling to be reminded that our efforts are not forgotten," Deardorff said.
http://www.thereporteronline.com/veterans/20140406/lansdale-man-honored-with-frances-legion-of-honor