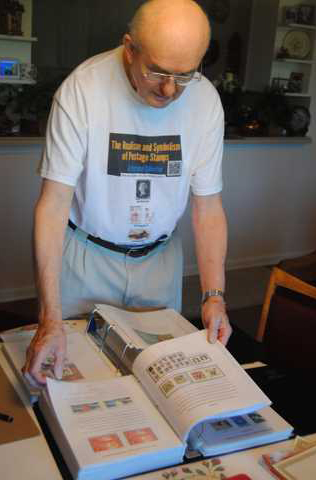 Looking through the pages of Dale Kreutter's book on stamp collecting is like looking through a history book of sorts.
The colorful stamp replicas recount historic tales, including a chapter in which the 78-year-old tells his own story through stamps. That chapter recounts the travels of his life, which started with his birth in Alden, N.Y. Other stamps follow a progression, including when he met his wife, took a family trip to Niagara Falls, N.Y., and when he completed the book.
"It's various places where I went," the Lanier Village Estates resident said. "You can write your biography in stamps if you take the time to find them."
It took Kreutter 4 1/2 years to compile 1,300 stamps from 191 countries in his ebook "The Realism and Symbolism of Postage Stamps." It is available on Amazon.com.
Kreutter began collecting stamps in 1974 after his oldest son — he has two — started a small collection. Although his son lost interest, Kreutter didn't.
"I got very interested in it because I do a lot of research on anything I do," he said.
He said one of the reasons he settled on stamp collecting was they are light, making traveling with them easier. That was important since Kreutter was stationed overseas with the military and picking up and moving was part of the job. He served as a major in the U.S. Army from 1955-87, completing two tours of duty in Vietnam.
"It's very important when you're in the military that you save as much weight as you can, because the furniture's going to have to be moved and everything," Kreutter said. "Stamps are the lightest thing you can collect. There's no weight involved."
Stamp collecting also appealed to his thirst for knowledge. Kreutter said he researched the stamps and found out as much about each one as he could.
"It was a joy for me and I found out so much about the world, no doubt about that," he said.
For example, Kreutter credits the building of the Panama Canal to a stamp.
Apparently, the French started building a canal in Panama but cost and illness prohibited the canal from being completed. When the United States looked at building a canal, the U.S. Senate was divided between Panama and Nicaragua. The French wanted the U.S. to choose Panama to sell its machinery to the Americans. So, a lobbyist sent postcards to senators with a Nicaragua stamp featuring a volcano with the message asking why they would build a canal near a volcano, Kreutter said.
While the proposed canal wasn't near a volcano, several legislators didn't know that and changed their vote. Thus, the Senate chose to build the canal in Panama, Kreutter said.
The Gainesville man is not the only one who gained knowledge from his collection. Kreutter's wife, Erika, said she's learned from his stamp collecting, too.
"I've learned how broad of an interest there is, how the countries got to make those stamps, under what kind of circumstances — some of them a little weird, some understandable — and the historic background," she said.
During the past 40-plus years, Kreutter has built his personal collection, acquiring them at stamp shows and auctions, buying them through dealers and bartering. In 2003, his son suggested he do something with the stamp collection.
"That night, I went to bed and when I woke up, I knew I was going to write a book with my most favorite stamps and I knew it would be 13 chapters," Kreutter said.
One of those chapters is errors made during stamp production. Some stamps have misspellings, misprints or glue on the wrong side which tend to make them more sought-after.
Picking each chapter was "easy," he said. "Writing it was not so easy, picking the stamps and everything."
Kreutter said he considers all of the stamps in his collection his favorites, but added he's a lucky guy for acquiring a rare pane of stamps by chance.
While addressing Christmas card envelopes in December 1996, Kreutter came across a pane of holiday stamps not cut correctly. As of 2005, only seven of those uncut panes were known to exist.
After selecting the stamps for his book, Kreutter began the time-consuming process of scanning all of the stamps for his book. He explained he couldn't use the actual size of the pictures of stamps or had the same colors due to counterfeiting rules.
Then he learned how expensive it would be to publish the book with all of the pictures as a hardback or paperback. Therefore, Kreutter opted to publish an ebook on Amazon.
"When I finally got to figure it out, that it had to be an ebook, when I was done I was thrilled," he said.
Erika was proud of her husband's accomplishment.
"It is very broad, very international," she said of the ebook. "With the pictures and descriptions, I think it's very well done. A lot of work went into it."
The book is geared toward the general public, but Kreutter said he hopes experienced and amateur stamp collectors will find it useful. To his knowledge, copies of the book have been sold in three areas of the world: North America, Europe and Asia. He also hopes younger generations would look at the stamps and learn something from them. The ebook is available at https://amzn.com/B00HHB2EO0.