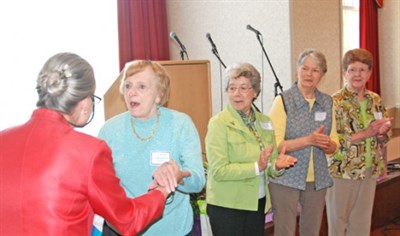 Kathleen Foerster became the newest member of the Second Wind Hall of Fame at a recent Volunteer Luncheon at Tryon Estates, attended by more than one hundred fellow volunteers. Forerster's induction was Sponsored by the Thermal Belt Outreach Ministry and the Certificate was presented by Carol Newton, Executive Director.
Kathleen Foerster relocated here to the Thermal belt upon retirement in 1995, living in Columbus. Continuing her inclinations as a community volunteer, Forerster was a frequent worker at the Outreach Ministry shelter providing food, clothing, and other assistance to local residents in need. She also devoted many hours to Steps to Hope as a volunteer in the large Columbus second hand store. Forerster actively served many community needs through St John The Baptist Catholic Church.
Forerster was a native of Minnesota, where she earned a degree in Radiology from the University and where she was first employed at the hospital. Her professional career progressed to becoming the Director of Radiology at the Boca Raton Hospital before retiring to N.C. She is blessed with 5 children, 16 grandchildren and 5 great grandchildren.
Her hobbies include sewing, reading, baking, and fitness programs. She will be remembered for nurturing a strong family and for helping the needy in her community.
The Second Wind Hall of Fame is a 38 year old Thermal Belt organization whose mission is to identify and recognize those most dedicated community volunteers who do so much to improve the quality of life in our community. There are currently over 180 active members in the Second Wind Hall of Fame. New inductees like Forerster will be celebrated at the SWHF annual banquet in September.
http://www.tryondailybulletin.com/2014/04/22/kathleen-foerster-inducted-into-second-wind-hall-of-fame/