At 91, Inge Scheutz has a cute photo of her dog Zsa Zsa on her iPad and wanted to learn how to export the image to other devices.
Sylvia Sanft bought her iPad a year ago and she's just learning how to use it with her caregiver Jessica Arias. Sanft recommended "iPads for Dummies" to the 14 other students who showed up for the beginners' iPad class in the library at St. Andrews Estates North, an ACTS Retirement-Life Community in Boca Raton. Two power wheelchairs were parked on the side, and one resident sat comfortably in hers for the one-hour class, the first in a series.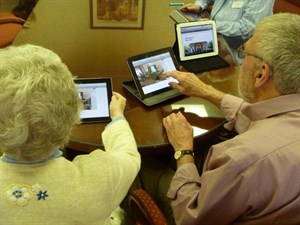 "Oh, I thought this class would be much smaller," said Recreation Services' director Grace Williams, popping in unexpectedly. "Next time, we'll hold this in the auditorium or a bigger room."
Only six people had signed up, she said later. "They're all trying to keep up with the youth and their kids."
But instructor Kaley Jones, 17, wasn't surprised at the attendance or her students' persistence in keeping up with technology, despite their respective ages. One student was 98.
"It's good they're not living in the past," she said. "They're excited about learning new technology."
In fact, at 81, Ruth Porto was intent on getting the hang of it, especially since the clocks on her iPad were already set to the same time as her grandchildren living abroad in the Peace Corps. The iPad, case and a keyboard were all a Christmas present, she said.
Like Porto, nine students already had an iPad, and the other five followed Kaley's lessons from a printed syllabus with a photo.
The class would go over the right touch buttons for on-off, airplane and sleep modes, lock screen, brightness, devices such as the flashlight and camera, and the play and forward button for music. "If you have a printer or keyboard and it doesn't have a cord, it's connected without plugs," Kaley said to explain Wi-fi and how to connect to the Internet.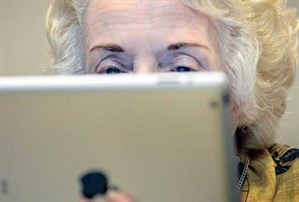 Patience is the key to teaching new technology to seniors, Williams said. "Kaley has a calming approach and seniors need the understanding she gives," she said.
But like any class, there was a range of student know-how. Dorris Groh took a selfie. "We all need refreshers," she said.
"It shows all your wrinkles!" Sandra Adelman said, laughing.
 "My husband took a picture of the ceiling," one woman added. "He doesn't know what he's doing."