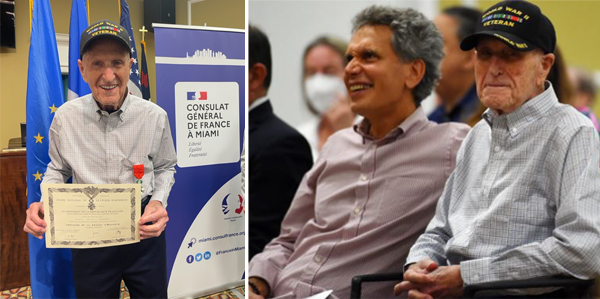 The French government awarded Indian River Estates resident Harold Granitur with the highest French distinction — the Chevalier de la Légion d'Honneur, also known as the Knight of the Legion of Honor. 
Granitur, 97, served as a U.S. Army infantry soldier during World War WII. At 18 years old, he landed on the beaches in Normandy in June 1944, and was shot while helping comrades during the D-Day invasion, but continued to fight. He was wounded again in eastern France. Granitur warned troops of an enemy position, and single-handedly convinced more than 200 German soldiers to surrender.
"He is a brave and courageous man. For us, he's a hero," said Consul General of France Vincent Floreani, who presented the medal to Granitur at Indian River Estates, where the veteran was celebrated by friends and family. "American soldiers restored freedom to my county, the French people will never forget America, our steadfast friend and partner. Our two countries have always stood shoulder-to-shoulder to defend and promote the values of freedom and democracy. The situation now in eastern Europe reminds us of our  need to remain united," Floreani added.
Check out an article and photos of the awards presentation in the TCPalm.com here.
"Thank you very much for this great honor which I hope I justly deserve," said Granitur who humbly accepted the Knight of the Legion of Honor. 
A few years ago, Granitur was featured by USA Warrior Stories for his heroic acts during WWII, in which he was awarded the Bronze Star.
"I heard from another soldier about some Germans out there who wanted to give themselves up. I said 'Ok, can some guys go out there with me?' I couldn't get anybody to go. I was lucky I didn't get killed on the way up," Granitur recounted to the Rowlinson Media Group. "They told me they wanted to give up but were afraid the Americans would kill them. I said, 'I'll take you in, but I'll be up in front of you.' Very shortly, they started coming out of the fort. I thought there were going to be about 30 people, but they kept coming and coming."  
"By the time they finished coming out of there, it turns out, it was like an army," Granitur said.
"I feel like I was honored to serve for the United States of America and I would do it again if I could."