Modern, versatile design transforming senior living & wellness for the next generation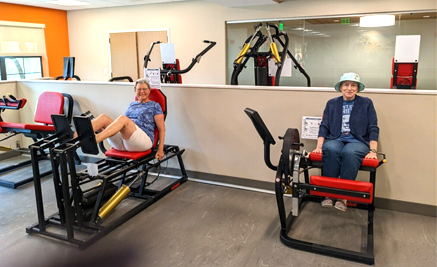 Indian River Estates, in Vero Beach, Florida, has opened its newly renovated Life Enrichment Center, an enhanced model of senior care and fitness which includes rehabilitation services, state-of-the-art fitness equipment, and access to a nurse practitioner and Acts Home Health and Home Services.
"It's great to have us all working in closer proximity to better serve our residents," said Robin Leatherow, the fitness director at Indian River Estates. "It makes the continuum of care that much more convenient being located in the same building on campus."
"It's a wonderful benefit for our residents to have the health and wellness services located within this beautiful, modern new space," said Cheryl Clancy, Southeast Regional Administrator of Acts Home Health and Home Services. "Acts continues to provide more enhanced services and amenities to support and promote healthy aging and we love being part of it!"
"Our new out-patient rehab center will provide an array of services, from physical, occupational and speech therapy, to wellness programs for balance, pelvic health, cognitive rehab, vestibular rehab, pain management, Parkinson's and neurological treatments, and more. Our new equipment and private treatment areas will ensure residents have a positive experience," said Lisa McNeal, director of rehabilitation services at Indian River Estates.  
"It's exciting! Our new fitness center has the best state-of-the-art equipment that is user-friendly and simple to operate. The Keiser strength equipment can be adjusted with just a push of a button," Fitness Director Robin Leatherow added. "Residents cannot only work on gaining strength, but also power which is essential as they age."
The new fitness and wellness amenity also includes a multi-purpose room which will be used for group workout classes, informative health and wellness programming. This is in addition to a variety of cardiovascular machines, a new upper body ergometer and a row machine. Leatherow said, "these two new fitness pieces the residents are really enjoying."
The newly renovated space also includes a Fitness "FLEX" area which will be home to ping pong tournaments, wellness chats, memory courses, and other wellness programs. "It is wonderful Acts is investing in wellness for its residents in this way," she said, "The new amenities overlook a resident butterfly garden which adds a beautiful touch to inspire our residents in their wellness journey."