Alex Fritz and Christine Dean are the first residents to move into Indian River Estates' new luxurious Citrus Blossom Villas. The Vero Beach community added 16 new upscale residences to its 100-acre campus.
"There is such a demand here for this type of living that I didn't want to take a chance and wish a year from now that we moved in," said Alex Fritz. "When I heard that these were being built, we went ahead and put a deposit down, we're very excited."
"I've lived in the area almost 30 years, seen quite a few of them and this is the best in town," he added.
These state-of-the-art villas were designed to attract independent retirees eager to enjoy an active lifestyle with the added benefit of a well-planned and secure future.
"We have friends who are having knees done and hips done and fortunately, we haven't needed anything yet, but we want to be proactive," said Christine Dean. "We want to make sure that if anything happens, we're well taken care of."
The couple also said their children were thrilled to discover the benefits of living in a continuing care community with unparalleled access to quality healthcare which alleviates anxiety and worry over the future, providing both peace of mind and financial security.
Read more about Indian River Estates' $13 million expansion and how county leaders praised its benefits for the surrounding area with luxury housing and lifestyle options.
"Originally my daughter was going, Mom, you're too active to move to a retirement community," Christine said. "But then once they realized the care that's available, they're excited for us."
 "They know that we're still here with all of our friends doing everything that we've done before. And I've made new friends, too," she added.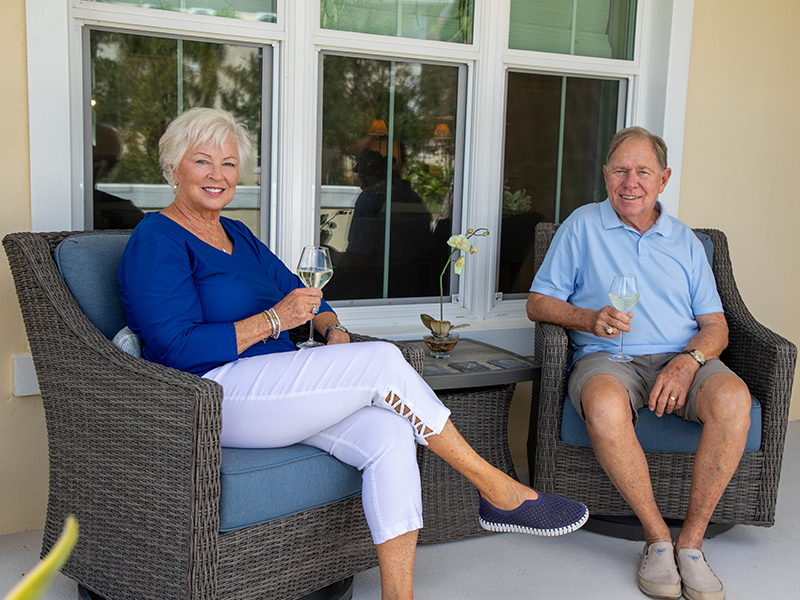 Christine also enjoys the wide array of fitness classes offered on campus, and Alex quickly developed close friendships with residents who play water volleyball.
"I have a group of real good buddies, we all play water volleyball," Alex said. "Sometimes we have as many as 12 people playing six on each side. It's a real hoot, just a lot of fun."
Most of Indian River Estates' Citrus Blossom Villas are occupied with only two remaining. The three-bedroom villas range from 2,662 to 2,873 square feet with an open-style floor plan featuring cathedral ceilings, modern kitchen and entertaining spaces, a two-car garage and ample storage.
"By far the villas, and the apartments at Indian River Estates, are way above what we've seen at other retirement communities," Christine said. "We feel that we've made a really good decision to come to Indian River States and Vero Beach, because it's a lovely, lovely home."
Learn more about Indian River Estates and its Citrus Blossom Villas, or schedule a tour, by calling our Life Care Consultants today.