New, upscale Citrus Blossom Villas target next generation of seniors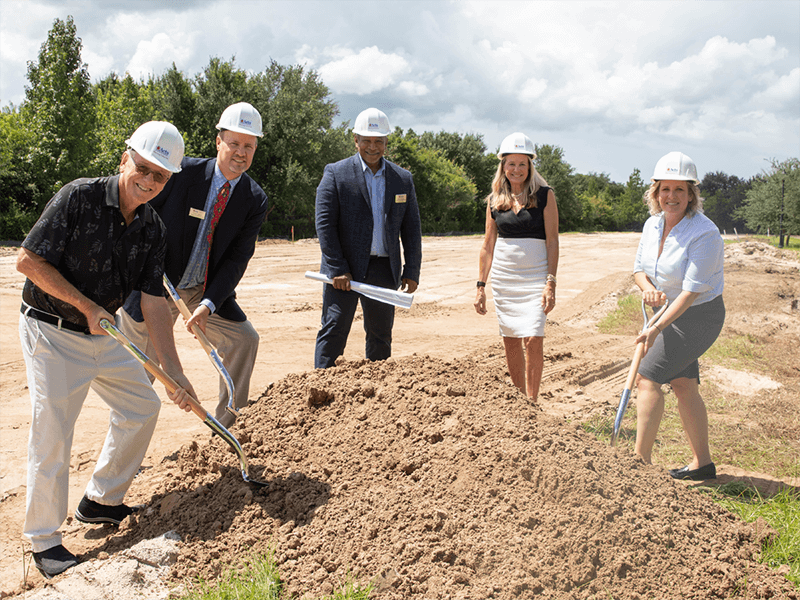 Indian River County Commissioner Susan Adams joined leaders at Indian River Estates, an Acts Retirement-Life Community in Vero Beach, Florida, for an official groundbreaking of its new Citrus Blossom Villas. (Not pictured: Jeff Merrick, West Residents Association President)
VERO BEACH, FLA. –  The county recently approved a $13 million expansion that will add these 16 new residences to Indian River Estates' 100-acre campus, and transform retirement for older adults looking for resort-style living with care available on the same luxurious campus. These state-of-the-art villas are designed to attract independent retirees eager to enjoy an active lifestyle with the added benefit of a well-planned and secure future.
"The villa expansion is exciting and welcome news for Indian River County and our surrounding communities," said Susan Adams, Indian River County Commissioner. "The project will result in additional state-of-the-art housing, coupled with excellent healthcare and quality of life programs for our senior residents.  We are very lucky to have such a great partner in Indian River Estates, which has been a cornerstone of our county for many years and is committed to making the investment to provide luxury housing and lifestyle options."
Most of the Citrus Blossom villas are already reserved, with only a few remaining. Acts Retirement-Life Communities, the parent company of Indian River Estates, along with Proctor Construction, are leading the development of the project which includes three-bedroom villas ranging from 2,662 to 2,873 square feet. Their open-style floor plan  features cathedral ceilings, modern kitchen and entertaining spaces, a two-car garage and ample storage. Layout options and top-of-the-line finishes are also available. In addition, these unique residences boast two stories and come complete with both stairs and a discreet elevator.
Residents will also have full-access to an array of on-campus activities and amenities such as multiple restaurants, aquatics and fitness centers with a full-time fitness trainer, outdoor amenities like croquet and tennis, as well as thrilling entertainment and artistic outlets. 
"Public demand for our existing 54 villas is high, with interested individuals often waiting years to move to an available residence," said Scott Cairns, executive director of Indian River Estates. "The addition of the Citrus Blossom Villas will help alleviate that wait, while simultaneously offering the largest and most luxurious residences at our community."
In addition, residents will have the protection of Acts Life Care®, a contract that provides access to future care on the same campus as needed – from rehabilitation to assisted living, skilled nursing and memory care.
Construction will be performed in phases, and most residents of The Citrus Blossom Villas are expected to move in next year. For more information call (855) 667-3074 or complete our form below.