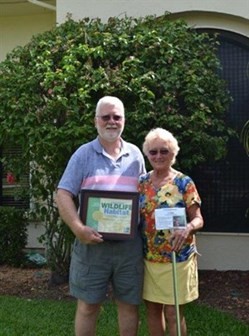 The National Wildlife Federation is pleased to recognize Indian River Estates, an ACTS Retirement-Life Community in Vero Beach, has successfully created an official Certified Wildlife Habitat site.
The recognition is credited to the effort of the community's residents, led by Landscaping Committee Co-Chairs Russ and Marilee Bell, who created a campus that improves habitat for birds, butterflies, turtles and other wildlife by providing essential elements needed by all wildlife - natural food sources, clean water, cover and places to raise young.
"Providing a home for wildlife in our communities - whether it's at home, or in schools businesses or parks - is the demonstration of a healthy and active eco-system. There is no more rewarding way to stay connected to nature right outside your door," said David Mizejewski, naturalist with the National Wildlife Federation.
George Bryan, campus executive director, Indian River Estates, said "Many of our residents enjoy watching wildlife visitors on our grounds and are strongly committed to providing appropriate habitat for our valued wildlife guests. The environmentally sound practices that we employ are viewed with great pride by our residents and staff."
The 110-acre habitat is populated with native and adapted plants that provide food sources and shelter for a wide array of wildlife. There are active purple martin houses and a significant number of birds hatch from our nesting sites and migrate south from each year.
The rain-fed lakes are populated by turtles, fish and ducks that are typical for central Florida. A popular rookery offers nesting habitat for many species of herons and egrets.
The Wildlife Habitat program has been helping people take personal action on behalf of wildlife for more than 40 years. Indian River Estates joins the federation's roll of more than 150,000 certified habitats nationwide. Wildlife habitats are important to year-round wildlife residents as well as species that migrate, such as some birds and butterflies. Each habitat is unique for both beauty and function.
For more information on gardening for wildlife and details on how an entire community can become certified, visit www.nwf.org/habitat or call 1-800-822-9919.
ACTS Retirement-Life Communities is the largest not-for-profit owner, operator and developer of continuing care retirement communities in the United States.
For more information about ACTS, visit www.ACTSretirement.org.
http://www.tcpalm.com/ugc/indian-river-county/indian-river-estates-certified-as-a-wildlife-habitat-by-the-national-wildlife-federation_80227935