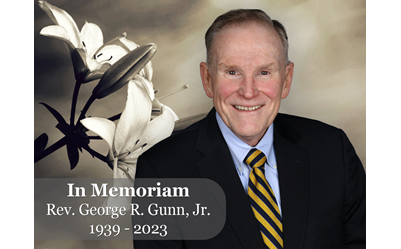 It is with deep sadness that we announce the passing of the Rev. George R. Gunn, Jr., who went home to be with the Lord on March 8, 2023. George was Acts' CEO and Vice Chairman of the Board of Directors from 1995-2005. Following his retirement, George became a resident at Brittany Pointe Estates and rejoined the Acts Board in 2012 serving through 2022 where his legacy of dedication, commitment and many inspirational contributions continue to positively impact the organization.
George was a man of great faith and shared that faith openly modeling a commitment to doing God's work for others. Following a career in advertising, George joined Acts because he believed in our mission, saw an opportunity to contribute, and felt called by God. Among his many accomplishments were the creation of Acts Corporate University, the Acts Center for Applied Research, and Acts' Culture of Loving-Kindness philosophy of service, reminding each of us of our responsibility to glorify God in our work and how we treat those around us.
On behalf of the entire Acts family, we pay tribute to a man who embodied the mission of Acts through his legacy of service to others, and commitment to the well-being of residents, team members, and the organization.
At the request of the family, donations in George's memory may be made to The Reverend George R. Gunn, Jr. Disciple Fund.