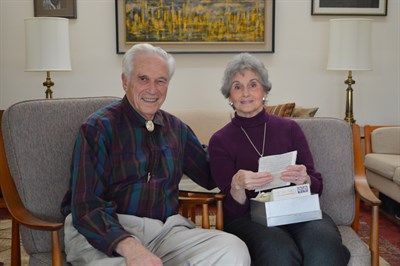 For Sidney Engel, keeping his marriage alive for nearly 60 years requires a lot of communication - mainly, communicating the words "yes dear" to his wife frequently.
"You still don't say it that often," 81-year-old Ethel Engel, his wife and dance partner for the past 58 years, said with a wry smile.
It's also a matter of saying "I love you" as much as possible - something that Sidney, at the age of 84, has only recently come to understand.
"It was difficult for me to say it earlier," he said. "But my day begins when she gets up."
Now, Sid and Ethel have come to refer to their cottage at the Cokesbury Village as a "love nest," where their relationship continued to grow over the last four years.
"We spend a lot of time here, together, and we can focus on each other," he said.
YOUNG LOVE
The two met on a beach in Nantucket in August of 1956, when Sid was on a week's vacation from his home in Wilmington with a friend whom he said was a bit more forward than Sid was.
Spotting Ethel and her friend sitting on a blanket nearby, the friend struck up a conversation, asking the ladies if the boys could check out the newspaper they were reading.
"Next thing you know, we're walking down the beach," Sid said. "I can still feel our hips hitting as we walked. And from there, the rest is history."
He added that while Ethel was certainly easy on the eyes, he was also impressed with her ability and enthusiasm to take on anything - including waterskiing and pedaling from one side of Nantucket to the other on a bike sans gears.
Ethel, who was a schoolteacher in New York at the time, was on the Island for most of the summer - unlike her new counterpart, who had to return to his hectic schedule as a chemical engineer at DuPont when the week was over.
"We saw each other several times that week," Ethel said. "Two weeks later, he came to Manhattan, and we went out. He was working rotating shifts, so I think we saw each other every two or three weeks."
Four months later, they were officially engaged on Dec. 30, 1956.
"We barely knew each other," Ethel said with a chuckle.
"Well, we didn't want to spend the money on long distance calls - they were expensive for us, so we wrote two letters a week," Sid said.
Forty years after the letters stopped, the couple sat down and read through them in sequence, with Sid finding himself somewhat surprised by the content of his correspondence.
"I could not recognize the guy who wrote those letters," he said. "There was a lot of feeling."
Sid and Ethel tied the knot on June 30, 1957, at what Ethel describes as a "low-key" wedding in New York, surrounded by Ethel's large extended family - something else Sid finds appealing.
"I was an only child, so I enjoy that," he said.
Three months later, Sid said he "dragged" Ethel off to Louisville, Ky.; not long after, the babies started coming - two sons and a daughter. The young family eventually relocated back to Delaware in 1962.
MAKING IT WORK
Even in those early days, the couple shared a confidence that the relationship they were forming would last, despite the problems they encountered along the way.
"I think the thing that has made it work so well, is we never said a cross work to each other," he said. "We may have had issues, but we solved them with silence."
"We both had a lot of commitment to making it work," Ethel said. "And we communicated."
That communication means listening as much as expressing your own feelings, Sid added.
"And to continue to communicate on things that are non-controversial," he said. "It's an openness and a trust where you feel like you're not going to be beat down or belittled."
Romance also still plays a major part in their daily lives, with Sid calling it his first and top priority.
"We actually still sit in the auditorium together and watch a movie holding hands," Ethel said.
She added that while one of them may on occasion say something that is hurtful to the other, she knows that it's never done "intentionally, or with malice."
And while there's some "giving in" in their relationship, the Engels try to leave it where both parties are satisfied.
Although there was the time when Sid got a new widescreen TV and Ethel was supposed to get a dog - there's a shiny new set in the living room, but the pooch is still MIA.
"Yeah, that's one of the few things that never got resolved," Sid said.
Ethel and Sid have one other piece of advice for couples struggling to make it in a world where more than half of marriages end in divorce - keep saying "I love you" all day, every day,
That, and find some things you like to do together, like dancing - to this day, the Engels still enjoy a Bossa Nova or American Waltz together when the mood strikes them.
And it might not hurt to find that cozy love nest, where the Engels says their love continues to grow every day.
You can also view the article on the Hockessin Community News' website.