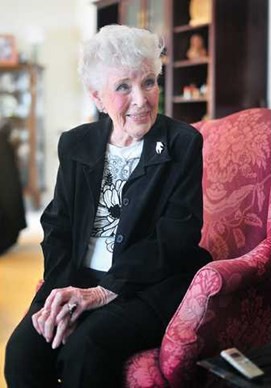 At 91 years old, Hilda Bell knows how to do a little bit of everything.
As a master woodcarver, she can transform a block of wood into the face of an old man with wrinkles, a full beard and seemingly tired eyes.
Trained as a young girl in tap, ballet and ballroom styles, she now teaches line dancing to the men and women of the assisted living facility, The Holbrook.
As a woman who sewed her four daughters' clothes "because we were poor," she has crafted costumes and helped with fashion shows.
As a musician, she easily picks out tunes on a dulcimer, including the immediately recognizable "Twinkle, Twinkle, Little Star" to a few people sitting in her apartment in the gated Gainesville community.
"I'm a jack-of-all-trades and master of none," Bell said with a smile as her eyes twinkled.
But she is adamant about what she is not.
"I'm not a singer," the nonagenarian said.
She quickly added "I feel I'm more of an entertainer."
An award-winning moment
The senior citizen, now, has the undeniable proof. She is an award-winning entertainer. Five months ago, Bell captured the Larry Williams Award during a juried singing competition in Roswell.
"It's basically like 'American Idol,'" said Cindy Bell, one of Hilda's daughters.
Started by pianist Larry Williams to raise money for children's charities, the contest involves five judges scoring contestants on their vocal abilities. The scores are tabulated and the winnerreceives four hours of recording studio time.
Cindy, who has been with the show's production since its inception in 1974, was adding the scores at the September 2014 contest when she realized her mother would be the winner.
"I saw she had a really high score," Cindy said, adding she asked another volunteer to check for any mathematical mistakes. "And sure enough (my mother) had won."
But when Cindy announced Hilda as the winner, her mother didn't hear her own name.
"I have a hearing problem, especially if a lot of noise is going on," Hilda Bell said. "When (Cindy) said the name - my name - I did not hear the name."
Cindy said she saw her mother clapping and looking around the room, trying to spot the competition winner.
"Then everyone started standing up and giving her an ovation," Cindy said.
But Hilda remained rooted to her chair. Then pianist Arthur Turner, a professor at Georgia State University, alerted her about winning.
"Arthur said 'Hilda, it's you,'" she said, recalling the moment. "And Cindy's up there (on stage) saying 'Come on, mom!'"
Hilda accepted the award from her daughter, but had a second thought. The mother of four wanted to bequeath her studio recording time to Cindy, who is a trained singer.
"She said 'I guess I should give this to you," Cindy said. "But I said, 'No, mom. You have to do it yourself.'"
Sharing the spotlight
Her reluctance to stand in the spotlight alone is nothing new for Hilda.
Her introduction into the entertainment field started when she and her sister, Betty, performed together as children in Connecticut.
"My sister and I did a duet," Hilda Bell said. "We did a minuet and a Dutch dance."
Hilda, who was three years younger than her sister, explained she always danced the girl's role while Betty danced the boy's part.
"I had the blond hair and curls and she had the brown hair," Hilda Bell said. "So she played the boy. And she hated being the boy."
This led to a good-natured nickname for Hilda. Betty started introducing Hilda as "the pretty one."
But it was Betty who encouraged Hilda to perform. In fact, Hilda said she is usually "scared" when she gets up on stage to sing. However, she always recalls her sister's words.
"She said 'Forget about the people and just have fun,'" Hilda Bell said.
And the 91-year-old ensures she has fun, especially when she occasionally forgets the lyrics to a song.
"I start gibber-gabbering," she said. "And then I say it's not a senior moment. It's an intellectual overload."
This apparently gets the audience laughing, which motivates Hilda Bell to continue.
She also chooses songs or parodies to perform in public.
"I like to tell joke stories," she said. "And perform songs where I don't have to be on the right note."
Recording a CD
But recording a CD requires the right notes. Therefore, Hilda Bell did not know what to expect when she finally cashed in her prize at the recording studio.
"Tim (Wheeler with DoubleSharp Music) made it so easy," she said. "I didn't have to hold the mic."
Turner also agreed to accompany her on the piano during her recording session. He said despite her age, recording with her was "incredible."
"It was a lot more fun and half the stress of working with anyone else," Turner said. "Her memory is incredible, and her comic timing is incredible."
Her sense of humor was apparent, especially in two of the nine songs she chose for her recordings. The second and third tracks on the CD are a parody of "Are You Lonesome Tonight" and "I'm Going on a Date with Santa." She sang both songs during the contest.
Turner believes her song selection accounted for her winning the top prize after competing in the contest for 40 years.
"For some weird reason, the novelty songs struck a chord with the audience," he said. "There were more laughs. ... I'm really glad Hilda won.
"(And) to be able to get Hilda to win something and to have enough time to record a full CD," he continued. "I think it's a nice conclusion."
Then Wheeler turned her nine songs into a finished CD almost overnight. The quick conversion allowed Hilda Bell to give her first CD to her family - including four grandsons, two granddaughters and five great-grandsons.
"It's been a whirlwind for her," Cindy Bell said of her mother's recent accomplishment. "She was so excited to get copies out to family at Christmas Eve."
Now, she plans to share her musical prowess with the residents at Lanier Village Estates. Hilda will have a CD release party Tuesday in the gated community. Her two grandsons, Matthew and Logan Daniels, and her daughter, Cindy, will perform.
"We are going to give 25 percent of the proceeds of the sales to the Lanier Village Estates Good Samaritan Fund," Hilda Bell said.
She explained the fund assists Lanier Village Estates residents who are in need.
"If you run out of money before you die, they won't throw you out," she said. "That's one reason we are here. ... I didn't expect to live this long."
A long life
Hilda has overcome two major illnesses late in her life.
Seven years ago, she had a mastectomy after developing breast cancer. Then four years later, she had a heart attack.
She attributes her survival to the wonderful support system of her family and residential community.
Her daughter, Cindy, said her mother's positive attitude and her active lifestyle play a part, too.
"She's always up doing something," she said. "We can hardly catch her at home."
While she would not describe herself as a constant student, she admits she always likes "to learn new things."
That desire led her to learn how to paint and do woodwork.
"I've always had my hands doing something," she said. "Otherwise, I'd be bored to death."