Friday night football holds a special meaning for residents at Indian River Estates, an Acts Retirement Life Community in Vero Beach, Florida. 
For about 20 years, residents gather under the lights each home game to support their "kids" on the Vero Beach High School football team. The coach, players, and even the cheerleaders visit the Vero Beach retirement community at the start of every season to thank their devoted fans. To celebrate the team's homecoming game, residents covered head-to-toe in red loaded up Acts' bus, and held a special tailgating party right outside the stadium.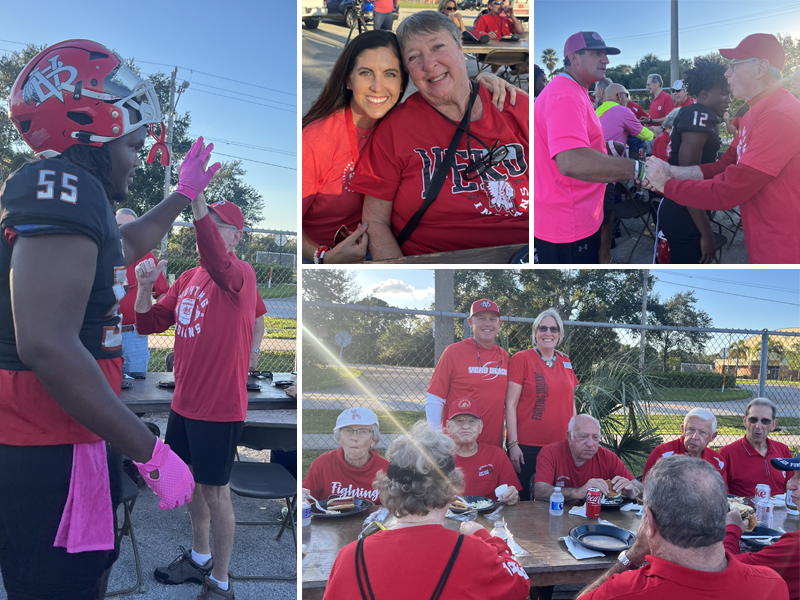 Resident Judy Schorner told WPTV reporter Stephanie Susskind:
""It's a lot of fun because we laugh, we cry if they lose, which they don't. We eat together and just cheer them on. My brothers played there, my brother and my husband's, my two children graduated from Vero Beach High School, two grandchildren graduated from high school there, and my daughter is a counselor."
Watch the full WPTV news coverage of the special bond between high school athletes and retirees here.
Indian River High School head football coach Lenny Jankowski brought his team over to the tailgate, and players exchanged high fives with residents right before taking the field.  Vero Beach's Fighting Indians won against the Martin County Tigers 28-3.
The special bond between residents and high school students extends off the field as well. Many high school students work at the retirement community as servers in their restaurants. Indian River Estates also offers college scholarship and tuition reimbursement programs to employees, many of them high school students. Visit Acts' career page to find out more!