At every single Friday night football game at Vero Beach High School starting in August, you'll find them cheering in the stands: enthusiastic residents of Indian River Estates dressed head to toe in red and white.
They don't miss a game. Despite being separated in age by about 70 years, the retirees share a special bond with the millennials and call them their "kids."
"We sit right behind the team and cheerleaders," said Bill Churchill, a season ticketholder who has supported the football team since moving to Indian River Estates in 2013. "They know us."
"Most of us don't see our own grandchildren this frequently," Churchill continued. "We adopt these boys every year and beyond that, we track them in college."
"They don't just come for one home game, they come to all of them," said Austin Maxwell, a fourth-year center on Vero Beach's Fighting Indians football team. "It's incredible to have such a great fan base and outreach to the community."
Each year, the retirement community invites the students to a preseason pep rally. The older crowd is energized by cheerleaders who jumped into pyramid formations in the lobby. Afterwards, the football team has dinner with their devoted fans, and residents learn more about the teens' interests and ambitions on and off the field. Both generations marvel at how much the game has changed.
"I played in high school football in the late 1940s," said Tom Garvey, 85, of Indian River Estates. "Just the size alone, they're so much bigger and stronger. We talk to them and compare our childhoods."
"We never did what these kids do now," reminisced Churchill. "We have 300 pound kids on the team. We didn't weight train over the summer. In my day, you'd never see that."
Churchill laughed about ordering two steaks for each player at his table. He also said when presented with the dessert menu, an offensive lineman replied, "I'll take one of each."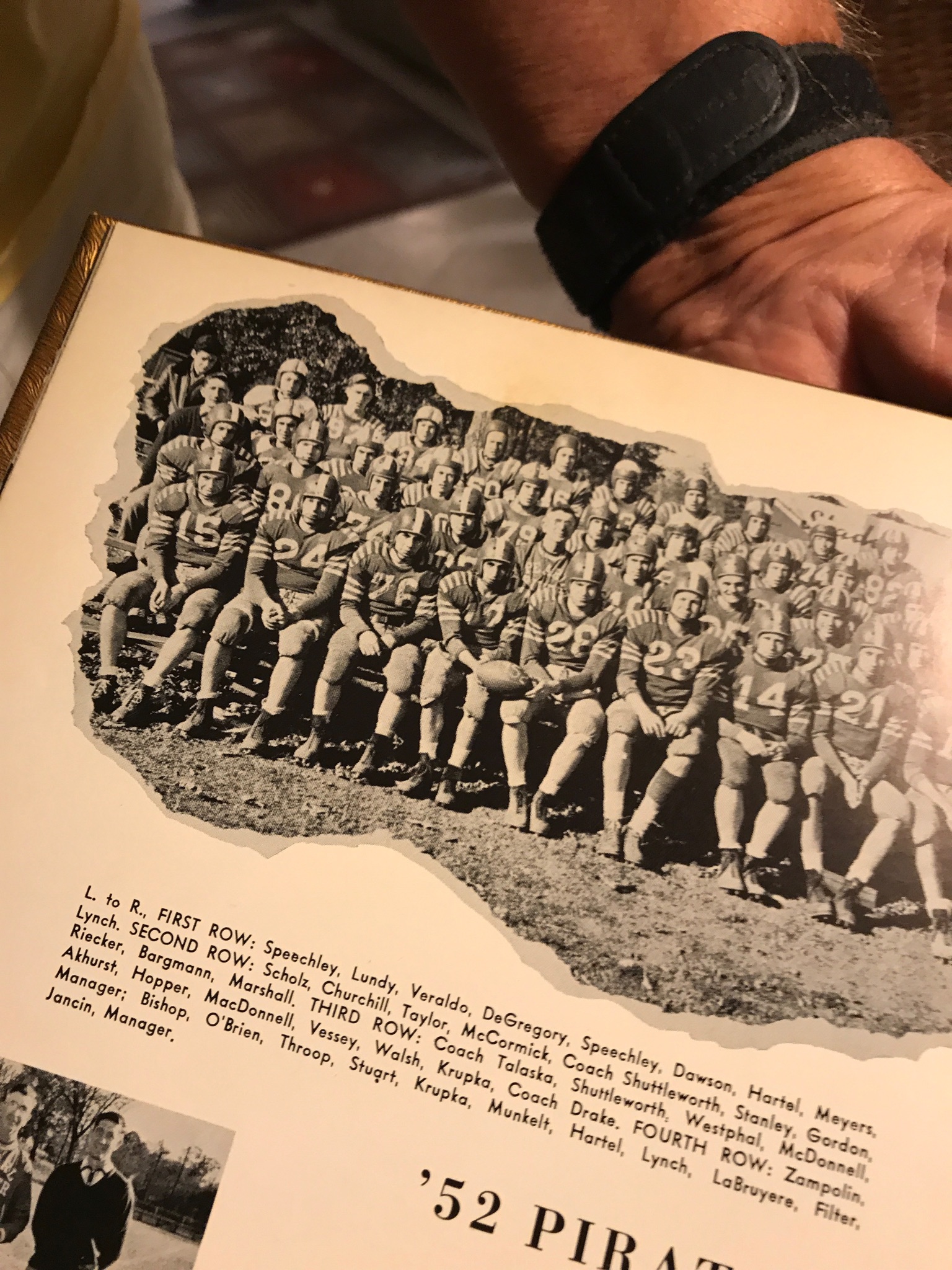 The pep rally preseason tradition began in 2004, and each year brings more fans. Starting August 18th, the group will "tailgate" with burgers and hot dogs at the community before boarding the bus to attend each home game. Many residents all wear custom T-shirts with the community's name and the Fighting Indians.
"It's really cool to see them wearing red and white and supporting our school," said Morgan Hall, a varsity cheerleader and senior at Vero Beach High School. "It was great to visit them at Indian River Estates, and meet those who don't get to the games. We brought the sidelines to them."
"The girls walk away with a very good feeling in their hearts," said Toni Kouns, the cheerleading head coach. "To make a difference for the residents … bring some pep into an ordinary day."
Residents also get to know the younger generation because many area high school students work as servers in the dining rooms on campus.
"Many of these folks are not from the Vero Beach area," said Scott Cairns, Executive Director of IRE East. "The relationships these residents build with high school students: it's fantastic. It develops the teens into young adults and it makes the residents feel loved."