Col. William Bernhard has heard bullets whiz by his head. He's seen young Americans die on the battlefield, and on the operating table. He was still in uniform at age 79, as a flight surgeon with the NATO training center in Hohenfels, Germany - probably "the oldest guy in uniform" at the time.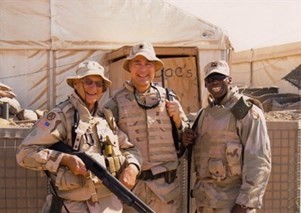 "I've always felt a strong sense of patriotism," Bernhard said Tuesday, July 1 in an interview at his home in Heron Point, an ACTS Retirement Life community in Chestertown. He said his father, who was a flight surgeon in World War II, told him to be thankful for his country and "what it has done for you." Those words resonated with Bernhard a few years later when he heard President John F. Kennedy's inaugural address, "Ask not what your country can do for you - ask what you can do for your country."
He took that advice to heart, serving more than 41 years, with more overseas deployments than he can keep track of. "I think it's 11," he said. Those include service in Iraq and Afghanistan during some of the worst fighting in recent years. At one post in Iraq, he said, his unit was in combat "every day." There were 16 killed and 66 Purple Hearts awarded in that unit, he said.
Yet the photos of him from his various deployments almost always show him smiling - in one case, with a shotgun crooked under his arm. "My weapon of choice," he said. Not surprisingly, he's also a hunter - a hobby he's had time to explore since moving to the Eastern Shore some years ago.
Bernhard is relatively new to Chestertown - he and his wife Therese, an Army nurse who served in Vietnam, moved into their Heron Point cottage one year ago, July 1. Before that, they lived in Perryville, where he became active as commander of Post 85 of the 29th Division Association, made up of veterans of the illustrious Maryland National Guard unit whose members fought in battles from the Revolution to the D-Day landing and into the 21st century.
Bernhard joined the U.S. Marine Corps in 1950, while a freshman at Trinity College in Hartford, Conn. A knee injury led to his discharge after only six months. "I missed Korea," he said. He went on to attend Hahnemann Medical School in Philadelphia, the third in his family to become a doctor. He received a medical draft deferment until he had completed his residency in 1960, at which point he went on active duty, becoming chief of anesthesia at the U.S. Naval Hospital in Boston.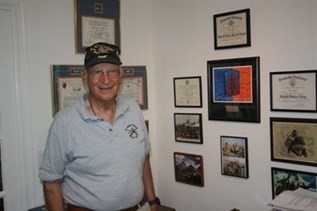 After his discharge, Bernhard compiled an impressive career in his medical specialty, anesthesiology. He was chief anesthesiologist at Jersey City Medical Center, associate professor of anesthesiology at New York University Medical Center and chief of anesthesia at the University of Maryland Shock Trauma Center in Baltimore, where he served for 10 years.
But he still heard the call of service to his country. In 1979, he joined the U.S. Army Reserve, and was deployed to Honduras, Korea and Canada. He also served with the Vermont Army National Guard mountain warfare school, an assigment that gave him the opportunity "to climb mountains all over the world."
Shortly after moving to Maryland, he joined the Maryland Army National Guard, where he served for 10 years as a flight surgeon before retiring in 1998. However, as he noted Tuesday, "you don't really retire from the Army."
With his skills and training in demand, he was sent to set up the 1,100-bed 365th Evacuation Hospital in Oman during the Gulf War. As soon as that job was over, he was assigned to fly in C-130 transport planes evacuating sick and injured soldiers from the front lines.
He was also sent to Riyadh in Saudi Arabia to brief military commanders on respiratory therapy and oxygen equipment. It was during that assignment that he came under attack by SCUD missiles. And after the initial fighting, he was assigned to POW camps for Iraqi soldiers, who far outnumbered their American guards.
In the wake of the Sept. 11 attacks, he was again recalled to duty as U.S. forces returned to Iraq and entered Afghanistan. He was first assigned by the U.S. State Department to a unit guarding President Hamid Karzai in Afghanistan. "I liked the country, but I didn't like Karzai," he said. That tour, in 2003, lasted three months.
He was sent to Iraq in 2005, where he saw some fierce fighting, coming under mortar fire on several occasions. On one patrol, he was pinned down overnight near the Euphrates River under fire from "some tough Sunnis," who sent a couple of bullets close to his head. At one point, he said, he asked one of the soldiers for his rifle so he could try to take out an enemy sniper. (The soldier declined the request.) Another medical team being flown in was ambushed. Somehow Bernhard got out unhurt.
The next year, he went back to Afghanistan, to a base "just outside Kabul." Around this point, he began to take an interest in post-traumatic stress disorder, partly as a result of his friendship with Command Sgt. Maj. Samuel Rhodes, who has written a book about his own fight with PTSD.
Bernhard's final tour of duty was at the NATO training center in Germany, after which he decided to make his retirement - his fifth - permanent. In the course of his service, he accumulated an impressive list of awards, including an Army Commendation Medal, a Meritorious Service Medal and the Legion of Merit.
He isn't slowing down in retirement. He enjoys hunting and fishing and is a member of the Rock Hall Yacht Club. He remains active with the 29th Division Association, which performs 30 to 40 honor guard ceremonies a year. He also takes part in a breakfast group that meets 6:15 a.m. at Beverly's to talk about "all the problems of the world." And he enjoys walks with his dog Chloe, who rested on the floor of his office during the interview.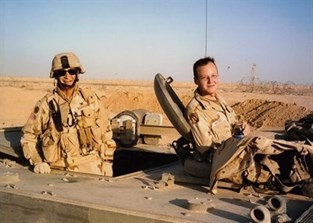 Asked what he would advise a young person considering a military career, Bernhard described it as "a great start. The values you learn and the training will stay with you your whole life." He cited discipline and teamwork as key lessons he learned in the service.
"I wish more young men and women would enter the armed forces," said Bernhard. "Only the armed forces have maintained our freedom through their willingness to fight and die to preserve them."