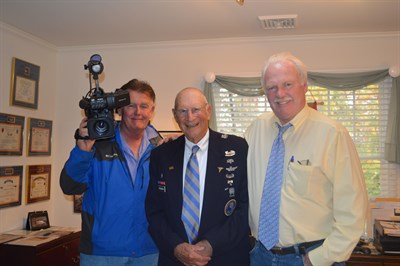 Dr. William Bernhard is a true patriot. He learned from his father that serving his country is an honor.
"So I became chief of anesthesia over there during Desert Storm," Bernhard said.
Bernhard began serving his country during the Korean War and has continued his service in Honduras, Korea, Canada, Bosnia, Iraq and Afghanistan. He spoke about what his service meant to him.
"To have the opportunity, to have the privilege, to have the honor of taking care of our finest," Bernhard said.
Bernhard was head of anesthesia at Shock Trauma. He retired many times from the military, but was called back.
Bernhard's den is lined with photos, medals and plaques.
"This is my discharge from the U.S. Navy, active duty 1963. This is my discharge from the U.S. Marine Corps in 1951. This is finally one of my retirements from the U.S. Army and I have five of them," Bernhard said.
At 79 years old, he was the oldest soldier to serve in combat. Bernhard said his father, who gave up a successful medical practice to serve in World War II, was his role mode.
"In 1942, my dad gives up his medical practice, joins the Army Air Corps, becomes a flight surgeon," Bernhard said. "He taught me patriotism."
Bernhard's den is a personal history of his service to his country. So how did he survive all those combat deployments?
"My survival is dependent on a lot of luck, but also I thought about it. Before I do something, I think and sometimes that can be survival," Bernhard said.
After all the years of service and sacrifice, why did he do it?
"John F. Kennedy said, 'Ask not what your country can do for you. Ask what you can do for your country.' And I've always carried that and carried my dad's memory and felt that I really have an obligation to do for my country," Bernhard said.
In a few days, Col. Dr. William Bernhard will be 84 years old. He said if he is called up again, as always, he won't even think about it. He will go.