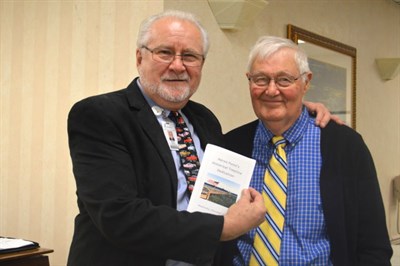 The Heron Point retirement community celebrated the 25th anniversary of its groundbreaking Nov. 19.
The anniversary was marked by a ceremony in Wesley Hall, the ACTS retirement community's main meeting room. The centerpiece was the dedication of a historical timeline, created by Heron Point resident David Batcheller, that includes photos, news clippings and other memorabilia of the community's quarter century in Chestertown.
Garret Falcone, Heron Point executive director, opened the ceremonies by introducing chaplain Anne Ledbetter, who gave an invocation. Falcone then read the 1989 Kent County News story about the groundbreaking, in which former superintendent of education Reade Corr and his wife Mary wielded the shovel. The Corrs were the first to sign up for residences in Heron Point, according to the article. Also mentioned as present at the groundbreaking were then-mayor Elmer Horsey and Chris Havemeyer, a local preservationist.
Batcheller described how he put together the timeline, thanking Falcone for his support. He also thanked the "pros" who taught him the fine points of PhotoShop so he could make effective exhibits from the 25 years' worth of historic items he had collected.
Several longtime residents shared their memories of Heron Point history, including one story of how Norma Gordon, one of the first residents, came to see the cottages during construction. The site was a "sea of mud," with planks laid out as walkways. Gordon slipped off the planks and went up to her knee in the mud - losing her shoe in the process.
The audience was then treated to a brief slide show displaying all 50 of the exhibits in the timeline. Audience members commented as they recognized long-time residents or employees in the photos.
Falcone then invited residents to the ribbon-cutting for the timeline, which was on the "green mile" corridor in the facility. He, Batcheller and Lydia Conroy, who came to work at Heron Point shortly after it opened in 1991, cut the ribbon.
Conroy still greets residents and visitors to Heron Point from her seat at the front desk by the entrance of the main building.
A program distributed at the ceremonies listed Heron Point history beginning in March 1986, when the Chester Sasssafras Foundation took an option to purchase the 66-acre property that eventually became Heron Point. In May of that year, Peninsula United Methodist Homes acquired the option to develop and operate the property as a retirement community.
The first residents, identified in the program as Mrs. and Mrs. Roland J. White, moved into cottage 417 on Jan. 8, 1991. Both were active in the Heron Point community. Roland White, a retired electrical engineer, died in 2007. His wife, Dorothy Jean, died in 2011.
Since it opened, Falcone said, thousands of residents, their families and community members have been affected by the presence of Heron Point in the community.