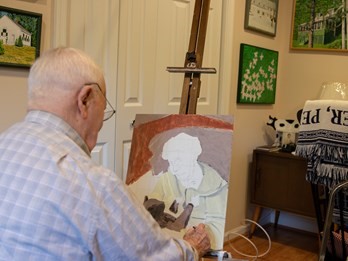 Gwynedd Estates resident and artist, Frank Boni, was interviewed by The Ambler Gazette about his completion of a 30-year project that included a series of paintings depicting churches and other buildings from the Philadelphia suburb of Ambler. The article marks the second time - the first coming in 1988 - that Mr. Boni has been interviewed by the newspaper about the project.
Mr. Boni, 92, was also recently the subject of one of our Featured Resident profiles, which you can read here.
To ready The Ambler Gazette's latest article, click on the image or link below.