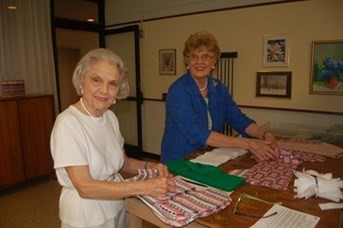 In today's Art of Aging, Lisa Thomas-Laury meets a group of women who show their support for soldiers, in a very personal way.
They are a group of senior citizens in Delaware and for the past 6 years, they've been putting their sewing skills to work to create "Stockings for Soldiers."
Edna Hein from Hockessin, Delaware is the organizer of the effort. She gathers the goods and donations and rallies the volunteers to make the stockings and stuff them with everything from soup to socks.
"Personal items like shaving and toothbrush and we'll have cosmetics because there will be women," said Hein.
The effort begins in August and the ladies ship over 10,000 stockings in November to assure GI's serving overseas during the holidays that they are not forgotten.
"Many of these soldiers have no family so this may be the only gift they get," said Hein.
Jane Kipp of Hockessin, Delaware said, "We know they're getting a piece of home and that makes such a difference."
The ladies get a list of soldiers serving so that they can personalize each stocking.
"...and we have great pictures of these soldiers haven gotten this gifts from somebody they don't even know and they're so excited about it," added Hein.
Kipp added,"It's just giving of our hearts to them and it's it's good." It's definitely the spirit of Christmas from our hearts."