As children, Richard Godshall and his brother would ride their bikes around their Franconia neighborhood, collecting donations for Grand View Hospital.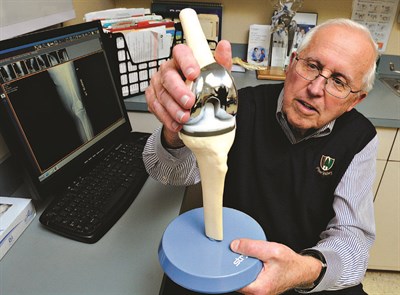 "Grand View Hospital, at the time, was our hospital," said Godshall, whose father, Enos, was on the hospital board. "Nobody thought of going to Philadelphia. If they had to go to the hospital, they wanted to go to Grand View Hospital."
His twin brother, Robert, would go on to represent the 53rd District in the state Legislature. Richard Godshall would go on to practice medicine at  Grand View, after finishing medical school and his residency in orthopedic surgery.
He'd stay there for the next 50 years, turning the West Rockhill health system into a powerhouse for orthopedics and creating a practice with three offices and a half-dozen doctors.
"This area was where I wanted to come to," he said. "The doctors welcomed me with open arms."
Now 81, Godshall has decided to hang up his doctor's coat and retire from the practice that he founded, Upper Bucks Orthopaedics and Sports Medicine.
"We've gone through four generations in the 50 years, four generations of patients sometimes," he said. "It was great to see these people come back and tell me, 'You treated my grandson, my father.' Those things made practice really worthwhile."
Godshall decided to pursue orthopedics while serving in the Air Force. It was a rare specialty at the time. He started his practice in September 1965. Despite a warning from a friend that he would "starve" if he returned to rural Upper Bucks, he knew he wanted to practice at Grand View, Godshall said.
"I would describe him undeniably as the father of orthopedics here," said Dr. Jane Ferry, chief medical officer at what's now known as Grand View Health. "He started a practice when there was no orthopedic surgeon in the region. It must have been a pretty scary thing to do at an early point in one's career. He did it, and he did it remarkably."
Godshall said he was particularly interested in sports medicine, and developed relationships with athletic directors at every area high school. He even opened a Saturday morning clinic at Grand View, where he'd see high school football players who'd been injured during Friday night games.
The practice grew rapidly. In 1968, Dr. Carl Hansen joined Upper Bucks Orthopaedics as Godshall's partner. As the practice of orthopedic medicine changed, Godshall and Hansen, who retired in 2012, sought fellow doctors who specialized in joint replacement, arthroscopic surgery and other specialized treatments.
"We decided we wanted to bring people in to add things to the practice that we ourselves, without training, couldn't do as well as someone who was fully trained," Godshall said. "When I was told about 25 years earlier that I would starve up in Sellersville ... (we) had eight people in our practice at one point. I was very proud of that. We were all partners. We could refer back and forth. And that way, we felt the patients could get good care."
Dr. Paul Weidner, who joined the practice in 1988, said the practice's reputation in the community stems from the foundation Godshall laid.
"I don't think I have come across many people or many patients, whether in the community or at the office, that had a bad thing to say about Dick," Weidner said. "Everyone liked him. Everyone was thankful for having met him and having gotten to know him, whether as a friend, a patient, a fellow physician, or an employee. Dick has made Upper Bucks Orthopaedics the great place that it is to practice orthopedics. He has made it a great place for patients to come receive care, and he has made Grand View Hospital a great place to have their orthopedic surgery performed."
Godshall's "energy and friendship" will be missed in the practice, said Dr. Steve Casey, who joined Upper Bucks Orthopaedics in 1998.
"Dick Godshall is an integral part of this community and has been all his life," he said. "It has been a privilege to work with him. Our group will continue striving to provide the quality and caring service that Dick demonstrated throughout his professional career over these last 50 years."
Ferry said Godshall, who served as chief of orthopedic surgery at Grand View for 29 years, helped put the hospital on the map for the specialty surgery. But, she added, his skill went beyond the operating room.
"He's just an amazing man," she said. "Nothing is too much of a problem. He is one of the kindest orthopedic surgeons, who really cares for the whole patient. He loves athletics. He loves caring for people. He loves his community."
When Warwick resident Gladys Yvonne Clinton started having knee problems, she thought of no one else but Godshall, who had successfully treated her son's football injury in the 1970s.
"We just felt so at ease, and so comfortable with him," said the 86-year-old Clinton, whose daughter was also one of Godshall's patients. " ... Always with the knowledge that Dr. Godshall is going to fix it, whatever was wrong. And he did."
Godshall said he has loved the practice of medicine. But there are things he didn't enjoy. Rising medical malpractice rates hampered efforts to care for patients, he said. And he believes computers caused more trouble than they were worth.
"The younger guys could handle it better than I could," he said. "I could not see myself carrying one of these iPads around and typing everything up when a patient was telling me something."
Godshall, who moved several years ago from Hilltown to the Brittany Pointe Estates retirement community in Upper Gwynedd, said he began scaling back his practice a few years after his wife, Sondra, died.
Now, he's looking forward to spending more time with his four daughters and seven grandchildren. Looking back, he said his practice has succeeded because of its doctors, staff and patients, who were loyal not only to Upper Bucks Orthopaedics, but to Grand View.
"The biggest thrill that I got out of medicine was taking care of people, hopefully making them better," Godshall said. "Through 50 years, I did thousands of operations. Many of them involved car accidents or industrial injuries. Many of them were just small things. But the small things were just as important to the person as the big things were."