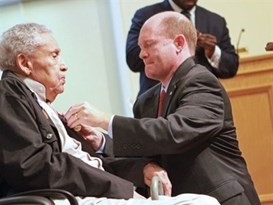 What originally was to be a small gathering, with 20 invited guests and a few neighbors from Cokesbury Village, mushroomed into something more like a family reunion.
That's if you have a U.S. Senator in the family, Delaware Democrat Chris Coons, in this case, a pair of Wilmington mayors (one retired), state legislators, city council members, business leaders, educators, lawyers, historians, artists, philanthropists and other movers and shakers.
About 125 people converged on the auditorium at Cokesbury on Friday morning to witness a rare occasion indeed, the presentation of long-lost military medals to a Buffalo Soldier, a 94-year-old World War II veteran best known in Delaware for his combat against racism, ignorance and discriminatory treatment.
James H. Gilliam Sr. arrived unadorned, in a dark suit coat and tan pants. He left with eight medals and badges on his chest, honors earned in service rendered 70 years ago during World War II and in the Korean War.
It took both lapels to bear all the new hardware - the Bronze Star Medal (he earned two), the American Campaign Medal, the European-African-Middle Eastern Campaign Medal, the World War II Victory Medal, the Army of Occupation Medal with German Clasp, the National Defense Service Medal, the Combat Infantryman Badge and the Honorable Service Lapel Button, WWII.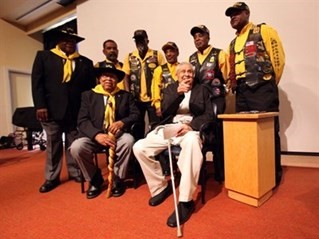 Coons and Bank of America executive Tony Allen pinned the medals on him as Brendan Mackie, an Army veteran who works on Coons' staff, read an account of Gilliam's heroism and explained the significance of each item. Originally, Gilliam believed his records had been lost in a fire, as he was told. But Mackie partnered with the National Archives to find the records and verify his achievements.
Friday, those medals found their rightful owner.
"They're nice, colorful, and if you put them on right they don't stick you and they don't hurt," Gilliam said.
"But to me, this affair is especially important because it gives me an opportunity to speak to the inequalities that exist in this country and an opportunity to speak to the wonderful work of the Buffalo Soldiers."
The units with which he served traced their origin to the Buffalo Soldiers who served during the Civil War, World War I and, finally, World War II. The all-black units got their name from Native Americans, historians say.
With his customary frankness, Gilliam kept his remarks brief and pointed.
"I'd be lying if I said it was a good experience," he said of his duty with the Buffalo Soldiers, the 92nd Infantry Division, with whom he served in Italy during World War II. "It wasn't."
It had a few bright spots, though.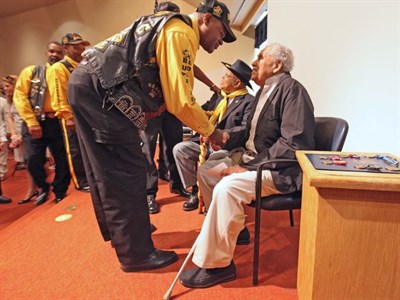 The Italians treated Gilliam with a respect he had not experienced in the racially segregated United States. He remembers sitting with a white officer while they were stationed in Germany. They had become friends. Their paths would probably not have crossed that way in the United States, he said, and they talked about that, too.
"I was freer in Europe than in the country I was supposed to fight for."
Among those in attendance Friday was Erwin Polk of Newark, who, like Gilliam, graduated from Morgan State College. Polk also is a member of the Delaware Afro-American Historical and Geneological Society, and the great-grandson of a Buffalo Soldier, Thomas Elzey Polk, who served from 1882-1892.
"This is history," Polk said. "Mr. Gilliam is history in the state of Delaware and we have to support him any way we can."
Others were there to represent some of that history, including the members of the Buffalo Soldiers Motorcycle Club of Delaware and the Greater Delaware Chapter of Buffalo Soldiers re-enactors.
"We go to a lot of events where we're burying somebody," said Roy "Sticks" Walker, founding president of the motorcycle club. "This time we got a chance to talk with a living, breathing man. We are honored, privileged - all them big words - to be here."
Allen remembers one especially inspiring conversation, in which Gilliam told him everyone gets their moment to do something big, not for themselves, but in service to others. Some people miss that moment, Gilliam told him, and they usually don't get another chance. Allen said Gilliam paused a long while after saying that, then turned toward him.
"Don't miss your moment."
Friday, Gilliam urged those in attendance to keep fighting for justice and equality.
"Believe me when I tell you - the war isn't over," he said.
http://www.delawareonline.com/story/news/local/2014/08/29/long-lost-wwii-medals-now-buffalo-soldiers-lapels/14834729/