Looking at four couples gathered in a meeting room at the Manor House in Seaford, activities director Debbie Reeves perhaps felt that she was in the presence of Cupid himself.
"There's a lot of marriage in this room," she said.
And indeed, there was. Bob and Sally Druckenmiller were married in 1952. Wilma and Harvey Kimbrough tied the knot a year later, in 1953.
Edgar and Clare Kauffman were married in 1946. And Norman and Mary Lee LeCates, the longest-married of them all, were wed in 1945.
Together, the four couples, all of whom live at the Manor House, have been married 240 years. And on the eve of St. Valentine's Day, they were willing to share some of the wisdom that has come with those decades of marriage.
"I made a deal before we got married," Sally Druckenmiller said. "If he wouldn't complain about my housekeeping, I would never ask him to help."
That deal worked, she said. "I'm a terrible housekeeper. But we learned to cooperate with each other to get things done. And he taught me how to iron a shirt."
"I ended up helping out," Bob added. "She never had to ask me. And I didn't complain if things weren't perfect."
Mary Lee LeCates agreed that cooperation is one of the keys to a good marriage. When she married Norman, they moved into his family farmhouse, two miles outside of laurel. "I had never lived on a farm before," she said. "I'd always lived in town, and we walked everyplace that we needed to go. Now all of a sudden I was two miles from anything. But we just helped one another and we made out fine."
Clare Kauffman counsels newlyweds to be patient in building their lives. "We got married after World War II and we didn't have a stove," she said. "I had to cook everything on a hotplate."
Sally also advises patience, as we as a willingness to work to make the marriage successful. "I don't think that kids today get married with the feeling that this is forever," she said. "They get married with the idea that they can get divorced."
The Kimbroughs feel that a good step for young couples, especially when they are forced to move to a new town, is to search out a church where they feel comfortable. "If you want to meet the nicest people, go to church and they will be there," Harvey said. He and Wilma still attend St. John's United Methodist Church, which they joined in 1966 when they moved to Seaford.
Ed Kauffman has advice that was handed down to him by his maternal grandmother, and that he said he and Clare have tried to follow in their 68 years of marriage: "Each for the other, and both for God."
"I never forgot that," Ed said. "Clare and I have a 'mixed marriage': I'm Catholic and she's Protestant. We still go to our own churches. But we've tried to follow my grandmother's advice all these years and we're still going strong."
How they met
Ed and Clare met each other when he was home on furlough after more than two years in the Pacific during World War II. "I have a sister who's a couple of years younger than me, and one day when I was home my mother asked me to pick her up at the bowling alley and bring her home," Ed said. He walked into the alley and spotted Clare, who was bowling with his sister. "There was something about her that I liked right away," he said. "I thought, 'I've got to make a move here.'"
He called her the next day. That evening, they went to a friend's house to play cards. "You sat next to me, telling me what cards to play," Clare reminded him, laughing.
That evening, Ed asked her out.
Clare, 88, worked as a secretary, Ed, 91, was a salesman and in 1957 started Delmarva drilling, now A.C. Schultes of Delaware, in Bridgeville. They have traveled around the world - this valentine's Day, the anniversary of their engagement, they will be on a Caribbean cruise - and were champion square dancers.
Blind date
The Druckenmillers were students at the University of Rochester when they met. Mutual friends thought that they would hit it off and set them up on a blind date.
"I liked him immediately," Sally said. "And then, he broke his leg and for weeks we couldn't go out. We just sat around, getting to know each other."
Bob, a Navy veteran, was an engineer with general Electric. Sally, 83, was a homemaker and also drove a school bus. They have six children, 18 grandchildren and five great-grandchildren.
Bob, 84, said that one secret to their successful marriage was their willingness to enjoy activities with their kids. The family was active in 4-H, he said, and worked together to keep their farm going, including putting up thousands of bales of hay every summer.
"We all had to work hard," he said. "But when you do things with your children, it draws you together."
Young romance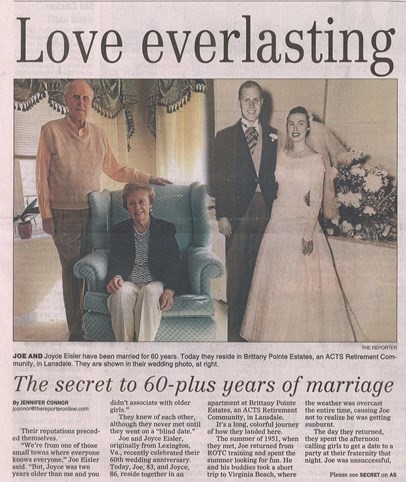 Mary Lee and Norman LeCates met when she was just 12 and he 14. Her family had come to Sussex Country from North Carolina so that her father could work on the construction of the new DuPont nylon plant in Seaford. Housing in Seaford was scarce, so they rented a place in Laurel.
Mary Lee's sister took a fancy to Norman. "But I started telling her things about him, and she lost interest," Mary Lee said. "Then I started to go with him. He had a mule on his farm and I had more fun riding that mule." (Her sister, by the way, recovered from Mary Lee's trick with no ill feelings.)
When Mary Lee's father suddenly died, she and her family had to return to North Carolina. But she and Norman wrote letters, two or three a week, she said, and then when she was 17 she returned to Sussex County.
They were married when she was 18. Norman, 89, was a farmer and Mary Lee, 87, worked at Montgomery Ward in Salisbury and then for a bank. They have three children, five grandchildren and five great-grandchildren.
As for all those letters that they wrote as teenagers, they have been destroyed. Mary Lee burned them when she and Norman moved into their newly constructed home in 1949. "I guess I just didn't want anyone else reading them," she said.
Love blooms at a wedding
Harvey and Wilma Kimbrough attended the same high school in Alabama. She was a year ahead of him and after graduation went to Auburn University. He went to the University of Alabama.
They reconnected several years later at the wedding of a friend, where they were both attendants. "That led to romance," Harvey said.
Wilma, 89, was a secretary and Harvey, also 89, is retired from the DuPont Co., where he was an engineer. They have three children, six grandchildren and seven great-grandchildren.
In addition to St. John's, Wilma is active in the Nanticoke Memorial Hospital Auxiliary and in various clubs in town. "We both believe in the importance of outside activities," Harvey said. "They have been central to our family life."
In fact, Wilma had to leave the gathering early to attend a meeting at the hospital. But before she left, she had one more piece of advice for young people:
"I would recommend marriage," she said. "Certainly."