For five of Rock Hill's World War II and Korean War era veterans, Wednesday will not be just another day at Park Pointe Village retirement community.
These five men will be part of the latest trip with the Honor Flight of South Carolina to see the war memorials in Washington, D.C.
The flights are paid for by donations and have been going for almost six years, with hundreds of veterans getting the chance to see the monuments that honor them and the other men and women who served.
Boyd Gilbert, a Park Pointe resident who is a Vietnam War veteran, helped get eight Park Pointe veterans on an Honor Flight last year, too.
"We are very proud of our veterans here," he said.
Of the more than 200 Park Pointe residents, 74 are veterans. Last year a group of veteran residents went on a flight, and the stories they brought back of the camaraderie and emotion encouraged this year's group of guys to go.
Roy Huston, 81, who spent a year in Korea at the end of the war, will for the first time see the Korean War Veterans Memorial that honors the men with whom he served. Some of those men died.
"The people who went before said, 'Don't miss it,' " said Huston, who recently was awarded a medal by the Republic of South Korea for his service to that country.
The other Korean War era veterans who are going on the Honor Flight are Eugene Berres, 84, Gary Winters, 81, and William "Bill" Birchfield, 80.Berres, an officer in the Army's first integrated trucking unit in the 1950s, also will be seeing the monuments for the first time.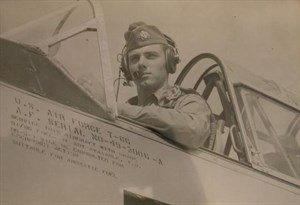 "It is a great opportunity to go with other fellows who served with me," Berres said.
Winters has "great respect" for all veterans. Going to see the monument with other veterans, he said, is "a way for all of us to express our patriotism."
Birchfield was a pilot during the Cold War years while the Korean War was being fought and afterward.
"The Russians never bombed the east coast under my watch," he said with pride. "I am very proud to have served."
Dave Kegley, 87, who primarily served among occupying forces in Japan at the end of World War II, missed last year's Honor Flight and is thrilled to have another chance to go. He also is looking forward to paying his respects at the Tomb of the Unknown Soldier in Arlington National Cemetery.
Kegley said it is hard to explain why visiting the National World War II Memorial is important to people like him and others of his generation. It is a feeling, an emotion felt by the men and women who served and knew so many others who were wounded or who died.
And for the first time, Kegley will visit the memorial dedicated to those who fought and died in the war he helped win. 
http://www.heraldonline.com/2014/05/05/5933613/five-rock-hill-veterans-to-see.html?sp=/100/104/