I was watching Little Big Shots Forever Young a few weeks ago. As a fitness trainer, I enjoy watching this show and seeing older adults singing, dancing, cooking and even an 80-year-old lady climb a sway pole 80 feet in the air and hang off of it going from one side to the other! Amazing!
All these people have one thing in common; they've been training for years.
I also enjoyed watching the "Jump Rope King," Nat Jackson. He set a jump rope record that evening for his age. He started jumping rope at 40 years old and said he's now "only" 73.
We all know we're only as old as we feel. I imagine that Nat doesn't feel 73 years old but probably 73 years young. Nat's goal is to get faster and jump rope until he's 90. He jumped 90 jumps in 30 seconds that night. It was recorded on the show by an official and Nat set a national record.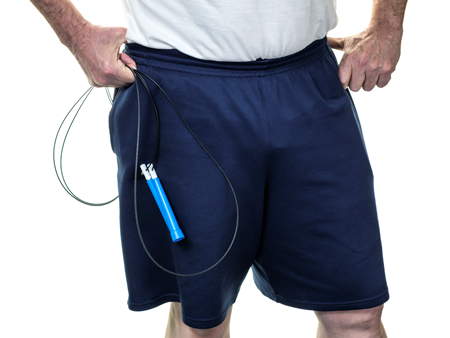 What a great story! Nat is also a wellness coach and motivational speaker. He should be. I'd follow his advice and leadership. He's impressive.
Remember jumping rope as a kid? A lot of muscles are used when jumping rope which allows the body to burn more calories. Here are some benefits of jumping rope, courtesy of the American Council on Exercise (ACE).
Improved coordination. Jumping rope has a steady rhythm and tempo and can help to improve the coordination between your eyes, feet and hands.
Improved cognitive abilities. Jumping rope makes you learn new movement patterns which improves the communication between your brain, lower leg muscles and wrists.
Exercise on the go. Jump ropes are easy to pack on business or pleasure trips. All you need is a basic workout room or space when traveling.
Increased workout intensity. Add a jump rope station to your strength training circuit to increase your intensity. Jump rope with a steady pace for a couple of minutes at the end of the workout to burn some extra calories.
It's important to invest in a good jump rope that's easy to adjust and preferably uses ball bearings to connect the rope to the handle. They last longer. If you physically can't jump rope, maybe you know a child or teen that would like it. Make it a fun exercise challenge.
Here's to your good health!
Jonathan Souder is the Fitness Director at Manor House, an Acts Retirement-Life Community in Seaford, Delaware. This column appeared in the July 20, 2017 edition of the Seaford Star.