Do you find it hard to stay fit at work when there's pizza lunches, donuts, candy, birthday cakes and happy hour celebrations? These are all needed morale boosters for the work team but after a while it all adds up to extra calories.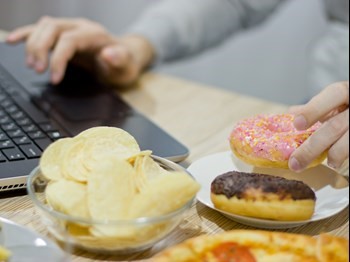 Extra calories that for the most part are hard to burn off because of our jobs requiring us to sit more in our day than move. My wife likes to remind me that "not all of us are fitness trainers like you" when I speak about the exercise opportunities I've had in my workday. Most days of the week, I'm fortunate to be able to lead and participate in about 2-4 hours of exercise. And yes, I love every bit of it and I'm thankful for all the years of fitness study to give me this opportunity. However, there are days where I'm stuck doing more director's duties sitting at my desk. I also have days where the food celebrations are hard to resist.
If you're struggling with your health and fitness at work, here's a few tips to help you stay accountable and yet still have fun, courtesy of the American Council on Exercise (ACE).
Don't forget why you made a fitness goal. Did you want to lose fat weight? Did you want to be stronger? Did you want to fit better in your clothes? Did you want more energy while not wanting to rely as much on medicines, energy drinks and other stimulants to get you through your day? Remind yourself of your goals by writing them on a sticky note and put them on your monitor or desk. Or keep an inspirational quote on your desk to remind you. Or you can put a picture of your goal (new dress, pants, vacation spot, etc…) on your screen savers and technology wallpapers as a reminder.
Partner up. You have a fitness goal and now you need a partner to help you stick with it. Most of the time it's easier to accomplish these fitness goals with a buddy or partner. Find a partner at work that's like-minded and go exercise on your breaks.
Keep track of your progress and food. I know many people now that track their food intake and activity daily to keep them on track. Years ago we had to journal it but now there's a number of apps on our smartphones to help do this.
Be prepared. Pack healthy breakfast and lunch foods and don't rely on wondering last minute what you'll eat for lunch. That's usually when you settle for fast foods and snacks. If you do have to eat out for lunch, look at the restaurant's menu before going so you're ready to choose a healthy food.
Be a fitness leader. You don't have to be a fitness trainer to be a fitness leader. I know many people who aren't fitness trainers who do a great job of encouraging others to eat healthy and exercise at work and outside of work.
Most of us will spend thousands of hours at work in our lifetime. Here's to you choosing to keep your workday healthy.
Jonathan Souder is the Fitness Director at Manor House, an Acts Retirement-Life Community in Seaford, Delaware. This column appeared in the June 7, 2018 edition of the Seaford Star.