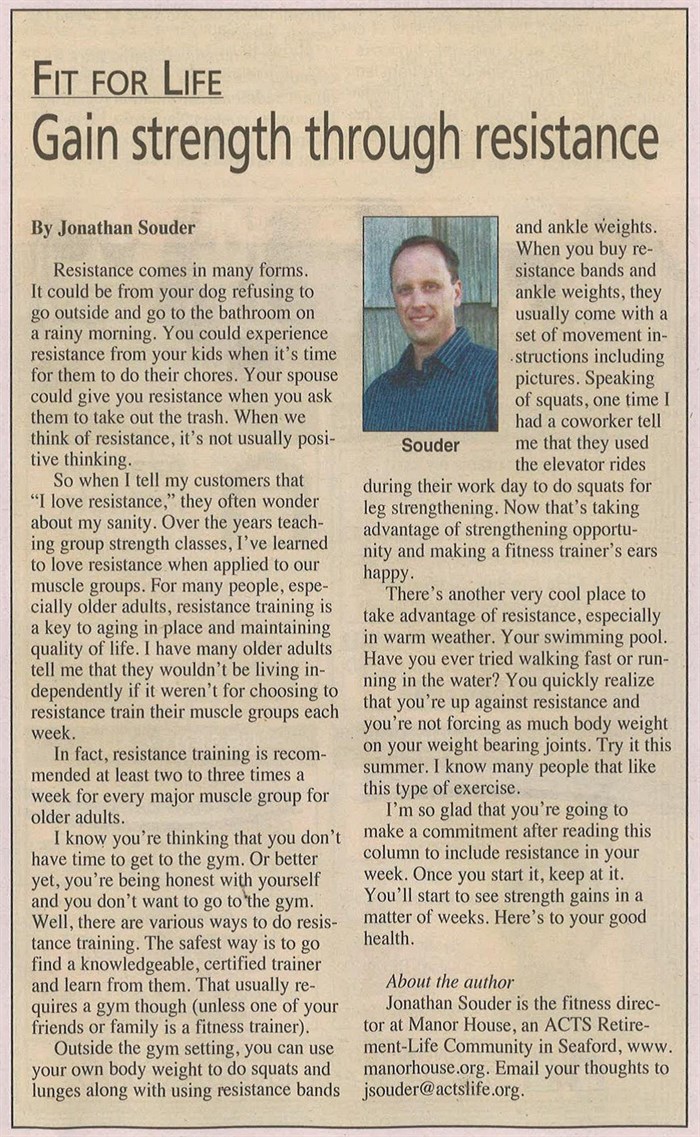 Resistance comes in many forms. It could be from your dog refusing to go outside and go to the bathroom on a rainy morning. You could experience resistance from your kids when it's time for them to do their chores. Your spouse could give you resistance when you ask them to take out the trash. When we think of resistance, it's not usually positive thinking.
So when I tell my customers that "I love resistance," they often wonder about my sanity. Over the years teaching group strength classes, I've learned to love resistance when applied to our muscle groups. For many people, especially older adults, resistance training is a key to aging in place and maintaining quality of life. I have many older adults tell me that they wouldn't be living independently if it weren't for choosing to resistance train their muscle groups each week.
In fact, resistance training is recommended at least two to three times a week for every major muscle group for older adults.
I know you're thinking that you don't have time to get to the gym. Or better yet, you're being honest with yourself and you don't want to go to the gym. Well, there are various ways to do resistance training. The safest way is to go find a knowledgeable, certified trainer and learn from them. That usually requires a gym though (unless one of your friends or family is a fitness trainer).
Outside the gym setting, you can use your own body weight to do squats and lunges along with using resistance bands and ankle weights. When you buy resistance bands and ankle weights, they usually come with a set of movement instructions including pictures. Speaking of squats, one time I had a coworker tell me that they used the elevator rides during their work day to do squats for leg strengthening. Now that's taking advantage of strengthening opportunity and making a fitness trainer's ears happy.
There's another very cool place to take advantage of resistance, especially in warm weather. Your swimming pool. Have you ever tried walking fast or running in the water? You quickly realize that you're up against resistance and you're not forcing as much body weight on your weight bearing joints. Try it this summer. I know many people that like this type of exercise.
I'm sl glad you're going to make a commitment after reading this column to include resistance in your week. Once you start it, keep at it. You'll start to see strength gains in a matter of weeks. Here's to your good health.
About the author: Jonathan Souder is the fitness director at Manor House, an ACTS Retirement-Life Community in Seaford. Email your thoughts to jsouder@actslife.org.