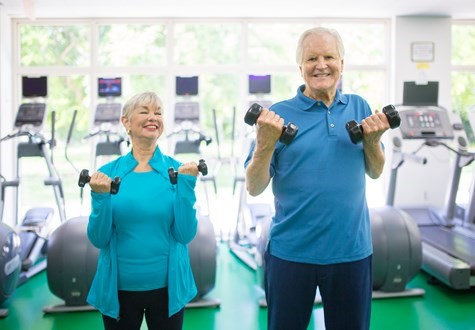 If you're like a lot of people, you wake up one day and ask, "Where has the time gone?" I can't believe I'm 44 years old!
You may be laughing right now because you're 80 years old and wish you were 44 again. I heard it said many times, "if I knew I would live to be 90 years old I would have taken better care of myself."
Regular exercise can help to slow the aging process. You're never too old to start exercising but it's best to start when you're young and continue on the rest of your life. Here's a few suggestions from the American Council on Exercise (ACE) on how to exercise through the decades.
In your 20s. Find an exercise you enjoy doing. Most people in their 20s can handle high-intensity exercises most days of the week. Don't forget a good night's sleep so your body can recover from that hard work out.
In your 30s. Life becomes more challenging as you start to balance your career and family responsibilities. Remember that favorite exercise you liked to do in your 20s? Hopefully it has become a good habit in your life by your 30s. If you're not doing any regular physical activity, by the time you reach 35 years old you'll start to lose muscle mass which is the start of the downward spiral of aging. You still need that good night's sleep to repair your body (which is important for every decade going forward).
In your 40s. This is my decade. I've learned that high-intensity exercise is not as easy as it used to be. I enjoy a good game of basketball but only for an hour duration and just a few days a week. Strengthening and stretching exercises have become more important to me now (these types of exercises are very important to do into the next decades).
In your 50s. Usually in this decade you start to see conditions like arthritis, diabetes, high blood pressure and high cholesterol to name a few. It's important to talk with your healthcare provider about what exercises are right for you. If you're able, continue to do exercises you enjoy and have previously done.  It's also important to try learning a new sport or activity to stimulate your brain health.
In your 60s. Have you retired from one career and looking for something to do? If you like to live healthy and exercise, maybe you could help others. Study for an accredited personal trainer certification like ACE and start your second career. Try group exercise classes which help you physically and socially. Water exercise is good every decade of your life but even more so as we age since it's not as stressful on the joints and you use a lot of muscles at one time.
In your 70s. Listen to your body and don't do any exercise that is extremely uncomfortable. Do exercises that require movement in every direction like tai chi, yoga and dancing to help with balance, flexibility and coordination.
In your 80s. Resistance training is very important in this decade to help maintain your strength and independence. Stay involved with your church, senior center, retirement community or club of choice to remain active and social.
In your 90s. You made it to your 90s!  Keep at it! I'm privileged to know some incredibly strong and independent people in their 90s and 100s.
Enjoy exercising through your decades. Here's to your great health!
Jonathan Souder is the Fitness Director at Manor House, an Acts Retirement-Life Community in Seaford, Delaware. This column appeared in the November 24, 2016 edition of the Seaford Star.