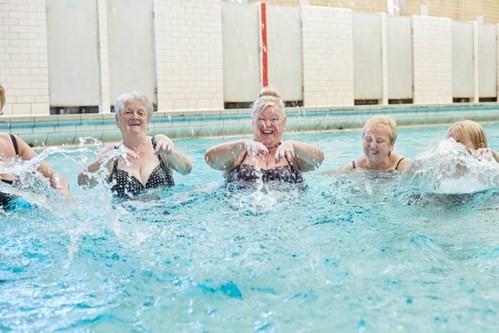 What are you going to do today to make you feel better? What influence will you need today to get moving and exercising?
For many people, exercise is something you make yourself do to prevent weight gain and chronic diseases such as diabetes, cancer and heart disease. But, are you having fun or just going through the motions? Has exercise become a chore? If so, it's time to step back and refocus.
We're all busy with life. Even people in retirement (and I know many retired people) are busy with volunteer work and managing their appointments. My wife and I are busy working full-time jobs, helping our two kids with homework and school activities, and maintaining a house, yard and vehicles. The last thing I want to do is exercise because I have to. I want to have fun when I exercise.
As a professional fitness trainer, I have the opportunity to teach group strength and stretching classes during my week. I don't teach aerobic specific classes so I have to make opportunities for myself to get my weekly aerobic exercise. The older I get, the less I choose exercises that are too intense or create feelings of displeasure.
Research shows that people will avoid things that make them feel bad. Exercise is no different. To prove this point, the U.S. Bureau of Labor Statistics estimated that there were 279,000 fitness trainers and instructors in 2014. And there was plenty of access to exercise facilities in 2015, with 36,180 health clubs/fitness centers in the U.S. Yet 80 percent of Americans do not meet the recommended physical activity levels, according to the American Council on Exercise (ACE).
Information about physical activity recommendations and exercise promotions are continually in the media. So why aren't people exercising more? I think it's because we've turned exercise into a chore, and most of the time, chores aren't fun. Just ask the kids.
It's time to make exercise fun. Don't focus on the long-term benefits like weight loss and preventing chronic diseases. The long-term benefits are great things but that may not help motivate you to get moving today. Try focusing on the fun of movement today when you exercise.
Here's to you finding your fun exercises.
Jonathan Souder is the Fitness Director at Manor House, an Acts Retirement-Life Community in Seaford, Delaware. This column appeared in the March 16, 2017 edition of the Seaford Star.