Did you exercise today? Maybe not, but I'm sure you've had something to eat. We may not all exercise daily but we all do eat every day. That's why over the last 20 years that I've been in the fitness business, I've witnessed more people concerned about their diet than exercise.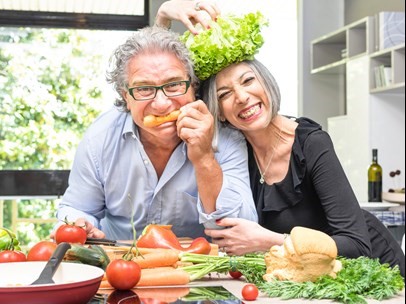 How many fad diets have you tried or heard about? South Beach diet? Weight Watchers?  Mediterranean diet? Zone diet? Adkins diet?  Paleo diet? The Raw Food diet?  Nutrisystem diet? Macrobiotic diet? Volumetrics diet? Keto?
These are some of the more popular fad diets that I've heard about over the years. A fad diet is defined as a diet that makes promises of weight loss or other health advantages such as longer life without backing by solid science, and in many cases are characterized by highly restrictive or unusual food choices (according to Wikipedia).
Here are a few healthy eating lessons that a registered dietician has learned in the last 20 years, courtesy of Abby Langer Nutrition.
People's food issues are rarely just about food. Some people's relationship to food developed because of life trauma or circumstances they couldn't control.
No one lays on their deathbed being glad they skipped those excess calories or food treats. If you're very rigid about your daily diet and too critical of yourself, be sure to treat yourself once and a while.
Things we say to kids and adults about their bodies matter. It's very easy for all of us to develop a negative self-image or a bad relationship with food because of what somebody else said about our body. Everyone has a different body type and we should all be considerate of that and keep our opinions about their weight and diet to ourselves. The old school golden rule is still valuable today; Do unto others as you would have them do unto you.
Fad diets come and go but living balanced can be forever. A lot of the above-mentioned fad diets have come and gone over the years. The registered dieticians have learned that you can't really go wrong with eating minimally processed, whole foods over the course of your life. And treat yourself here and there.
Best way to stick with your diet is to find a diet you enjoy and make it a lifestyle. We're all different with different body types and activity levels. Don't force yourself to eat in a way that isn't enjoyable for you just because others are doing it. Try to eat those whole foods and live a balanced life without yo-yoing into this fad diet and that fad diet.
If this has got you thinking, talk to a registered dietician or nutritionist about your diet. Here's to you eating well, sleeping well and exercising.
Jonathan Souder is the Fitness Director at Manor House, an Acts Retirement-Life Community in Seaford, Delaware. This column appeared in the July 5, 2018 edition of the Seaford Star.