Do you ever feel anxious or maybe sad? It's OK to feel like this and it's quite normal. In the past month or so we've heard about hurricanes, earthquakes, wildfires and other natural disasters on the news. Maybe you've personally experienced those natural disasters or had loved ones who were affected by them. Perhaps you had other situations that left you sad or anxious. Our 14-year old dog, Bailey, had to be put down this summer due to age-related health issues. Since he was our "oldest child" (as I always jokingly told our son, age 13, and daughter, age 11), it was a rough August for our family. If you've ever had a pet that's like family to you, you understand what I'm talking about.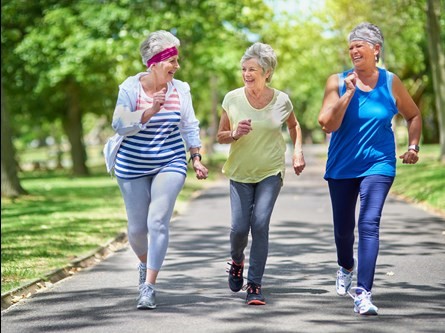 I was sad and anxious about Bailey's situation. Besides thanking God for the time we had with Bailey, I found that exercise was also very helpful in calming me. Exercise can release stored energy, serve as a distraction, can create opportunities for social interaction and improve our overall self-esteem. Exercise is very effective at reducing our anxiety and depression.
Here are a few things you can do to help improve your emotions and mental state of mind, courtesy of the American Council on Exercise (ACE).
Get Outside. As little as five minutes of outdoor exercise can improve self-esteem and mood (Barton and Petty, 2010). Outdoor exercise can lower anger and tension. In a society of technology, don't neglect your outside time!
Talk when you walk. You don't have to do strenuous exercise contrary to our society's fascination with ironman triathlons, American Ninja Warrior, 5K runs, bike races and marathons. Moderate-intensity exercise is most beneficial in reducing symptoms of depression (Craft and Perna, 2004). You should be able to talk in short sentences but not sing a song to be at the right intensity for your moderate intensity exercise.
Exercise with friends. Exercising with friends creates social support which is important for good mental health (Lakey and Orehek, 2011).
Be thankful for the gift of movement. Take time to reflect on your workout and be thankful for the movements you made. If you've ever recovered from an injury that made your movements painful, I imagine you were very thankful. Continue to be thankful and grateful.
Our family was thankful for the years we had with our dog, Bailey. Now we're excited to start a new stage of life with our new puppy, Charlie. He's keeping us on our toes and keeping us moving!
Find something or somebody to keep you moving. Here's to your great mental health!
Jonathan Souder is the Fitness Director at Manor House, an Acts Retirement-Life Community in Seaford, Delaware. This column appeared in the September 28, 2017 edition of the Seaford Star.