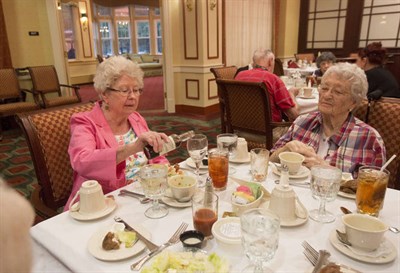 Many of us think of food aimed at the elderly as the bland, dated stuff that might show up on an early-bird-special menu: meat loaf and mashed potatoes. So, it may be a bit of a surprise to learn what dinner was like on a recent weeknight at Normandy Farms Estates, a Blue Bell retirement community that is home to more than 500 people. Average age at entry: 80.
The menu at the Fireside Grille included marinated salmon on sautéed fresh spinach, topped with sliced peaches; sweet and bitter grilled cheese (three cheeses with Spanish onion marmalade, tomatoes, and baby arugula); and grilled chicken marinated with smoked paprika and ancho pepper, served with crispy sweet potato and roasted corn-and-pineapple salsa.
Around the corner, three dining rooms offered 11 entrées, including coconut shrimp, seared pork cutlet with warm raspberry compote, and a grilled vegetable plate with pesto drizzle and herbed farro salad. The Lafayette Room was BYOB, a recent development for which some residents fought hard.
"We can bring wine to our dinners. That is good," said Ingrid Rivel, who lives at Normandy Farms with her husband. She still cooks a mean Black Forest cherry cake from her native Germany, but not much else.
This demanding crowd - not everyone can afford this lifestyle in late life - doesn't praise everything on the menu, but gives cooks high marks for upping their culinary game.
"Particularly in the last three years, the food really has improved tremendously," said Mary Anne Van Blarcom, a six-year resident.
Michael Smith, corporate director of public relations for ACTS Retirement-Life Communities, which operates Normandy Farms, said the locally based company has made upgrading food a priority in recent years to keep residents of its 23 properties happy and to attract new ones.
"One of the first things people ask when they're visiting our communities," he said, "is, 'How's the food?' "
Senior dining is evolving, as the generation willing to don a jacket for dinner gives way to younger folks who love cooking shows and are adventurous enough to try quinoa.
For years, facilities have been adding smaller cafés or grills when they remodel. Some have hired professionally trained chefs who proudly cook from scratch. Many menus have vegetarian, gluten-free, lactose-free, healthy, ethnic, and locavore options.
"It's been coming on strong the last 10 years because the public is demanding options and choices," said Larry Minnix, president of LeadingAge, an organization for nonprofits that work with seniors. It's not surprising, he said, because "the meal is the most important part of many people's day."
Retirement centers are also recognizing that people don't stop liking a drink now and then when their hair turns gray.
Beaumont at Bryn Mawr, an upscale retirement community on the Main Line, will soon open its new bistro. It will have TVs, a working bar, and a game room next door.
Willow Valley Communities near Lancaster already have 11 dining areas for their 2,550 residents, and offer brick-oven pizza and cook-to-order options. Soon, Willow Valley will add alcohol to the mix with the opening of a bar in its new 30,000-square-foot clubhouse. A full-service restaurant, Local Table, will follow in October. "It's going to rival the best restaurants in town," said chief marketing officer Kim Daly Nobbs.
Chris Trendler, a sommelier with restaurant experience, is setting things up. He'll feature updated cocktails like the Ruby Collins, a mixture of gin, local honey, raspberry puree, egg white, and rosemary.
"I never thought I would say I'm working at a retirement community," he said.
NewAldaya Lifescapes in Cedar Falls, Iowa, created a main street that included Elm's Pub, a place to meet for drinks (it closes at 8 most nights) and live music.
"Why would you suddenly assume that someone is 70 and they don't enjoy any of the activities they've enjoyed their entire life?" asked Millisa Tierney, executive director. The livelier atmosphere, she said, has boosted volunteerism from students at a nearby college.
This doesn't come cheap, though continuing-care retirement communities like Normandy Farms argue that their costs are comparable to owning a home. Normandy falls in the middle range, Smith said, with an entry cost of $222,000 for a single person and monthly fees of $2,600. That includes prepayment for increased services that residents need when their health fails.
Greg Zebolsky, a consulting actuary for Milliman, who specializes in continuing-care communities, said there were still places that have only one dining room and give residents few food choices. But others are taking widely varied approaches to dining that include multiple venues and much bigger menus.
Zebolsky said continuing-care communities, which provide independent living through skilled nursing, were competing with each other, as well as with other forms of senior living and companies that provide services to people in their own homes.
They "are always trying to think of a way to get a competitive edge," he said.
Mike Slavik, who serves more than 1,000 senior-living providers at financial consultant CliftonLarsonAllen, said improved choice was a trend across all sectors of the industry. It's more important to people under 75 - those on the cusp of senior-living choices - than it was to their elders.
The changes in food service coincide with increasing emphasis on maximizing control for seniors instead of staff convenience, said Lynda Crandall, executive director of the Pioneer Network, which advocates for more flexibility and choice in long-term care. The organization's new dining standards call for giving elderly residents more choice and better-quality food while easing diet restrictions.
The changes make elders happier and healthier, she said, but also have marketing consequences.
"If you're not offering this choice," she said, "there are others down the street who are."
Doris Henning, a dietitian and nutritionist with Erickson Living, says her company's competitors include local restaurants. Senior communities also want their resortlike atmospheres to offer a better life than home.
Not all retirees embrace culinary creativity.
John Bauer, Beaumont's chef, is happily planning a farm-to-table dinner this summer that will feature Lancaster lamb and golden beets. But he has given up on spicy foods. "We've gone down that road," he said, "and it's not worth it."
J.J. Landy, a Sodexo dietitian who manages food services at Artman in Ambler, said residents there love meat loaf and beef stew. Couscous and quinoa were not a hit. Residents told her, "I can't even pronounce it, so don't expect me to eat it."
Patrick Picciocchi, culinary director at Normandy Farms, knows that attitude. His customers are quite willing to try new things, but unfamiliar names scare them. So he tells them what's in the dish: "Descriptions, I find, are extremely, extremely important."
http://articles.philly.com/2014-07-26/news/52031589_1_retirement-community-menu-byob