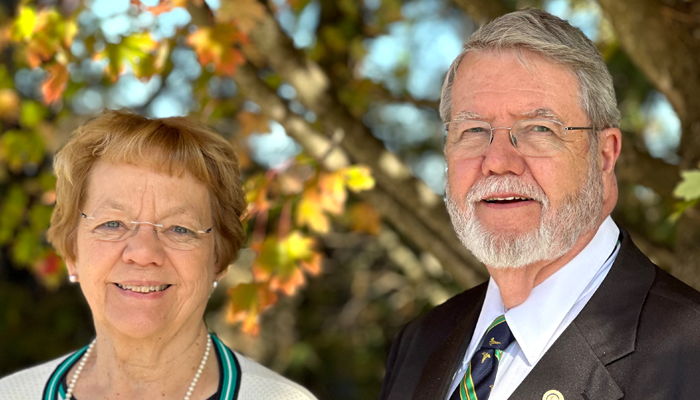 Dr. Alva (Buzz) Baker and Ellen Baker, residents of Fairhaven, are recognized for their volunteer service as recipients of the prestigious Maryland Senior Citizens Hall of Fame. The couple was inducted into the Maryland Senior Citizens Hall of Fame last month at a reception at the Ten Oaks Ballroom in Clarksville.
"We were very fortunate to be chosen since there was half as many inductees as previous years, from 50 awarded to 25. It's a tremendous honor to be selected," said Ellen Baker.
The Bakers moved to Fairhaven, an Acts Retirement-Life Community, in Sykesville in August 2010. At Fairhaven, Dr. Alva Baker, known as Buzz, has been on the Fairhaven Residents' Association's web team and their audio-visual committee. Buzz chaired the Lecture Series and has been a photographer for resident events. He also serves as Master of Ceremonies for Fairhaven's Veterans Day program. Ellen has worked on revising the Handbook for Residents and served as chair of the Fairhaven Residents' Association (FRA). She served on the committee that reviewed and revised the FRA Bylaws. She is a member of the Dining Services Committee, editor of the INSiGHT publication and has twice been Vice-President and President of the Fairhaven Residents' Association. They both sing with the Fairhaven Chorale and serve on the Inkling Editorial Board.
"It's the way both of us were brought up, to give back and make our corner of the world a little brighter," Ellen said.
"Both Ellen and I don't like a lot of fuss made about us or being put in the limelight," said Buzz Baker. "It's something just natural, we've done all our lives."
"We are very pleased that our friends nominated us," he added. The couple received the honor surrounded by their Fairhaven friends who sat at three tables at the celebratory luncheon, the most of any organization.
"We love living at Fairhaven and believe wholeheartedly in the life care concept," said Dr. Baker. "That's the reason we came here. My mother lived here in the last ten years of her life, and I had worked as medical director of Fairhaven from 1980 until I retired in 2009."
Dr. Baker still works full-time as a physician and Chief Medical Officer of Hospice of Washington County. The couple has three adult children who live in Virginia, Maryland and New York.
"My mother lived at Fairhaven and Ellen's mother also lived in a continuing care retirement community," he said. "We realized what a gift our parents gave us. Living here, our children will never have to worry about our security or healthcare."
"We still have a very active social life at Fairhaven, and it's helped us stay healthy as we age. Living alone at home, isolated from others, some older people lose their social connection and has a detrimental effect on their health," Dr. Baker added.
Outside Fairhaven, the Bakers are also pillars in the surrounding area, and volunteer together at area service clubs. For the Lions Club, they staffed the ticket booth for a carnival supporting the New Windsor Fire Department. They are also members of the Sykesville-South Carroll Rotary Club where they are both Paul Harris Fellows, working to support the Club's food pantry, staffing Octoberfest, and manning the ticket and pretzel booths at the Freedom District Fire Department sponsored carnival. They also edit and produce the Rotary Club's monthly newsletter.
The Bakers have been active members of the St. Paul's UMC in both New Windsor and Sykesville. Ellen served as Vice-Chair of the Administrative Council and co-secretary of the Trustees and is a member of the United Methodist Women. Buzz has served as Lay Leader, Lay Speaker, staff member of the Staff Parish Relations Committee and participates in the United Methodist Men's group. In New Windsor, he served in worship planning and as an audiovisual technician. He has led Bible study classes.
The Maryland Senior Citizens Hall of Fame, Inc. is a private, all-volunteer organization which publicly recognizes and honors extraordinary residents of Maryland over age 65 who go above and beyond the call of duty in service to their communities.