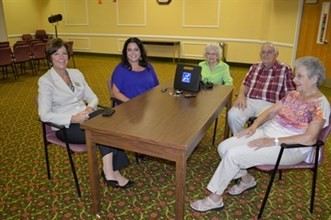 Thousands of residents across Palm Beach County and the Treasure Coast are hearing impaired. Thanks to a new project called "The Hearing Loop" life as they know it will change forever with the gift of sound in public places.
Elissa Sorkowitz Lejuene from Royal Palm Hearing Aid Center in Boca Raton is one of the partners of the project that uses a person's hearing aid to LOOP sound from anything over a PA system.
"It's a very exciting time in our industry that we can connect people in all different kinds of ways. "For them to be able to watch a movie. It takes people from out of their homes and into the world."
Retirement community Edgewater Pointe Estates in Boca Raton was the first to install The Hearing Loop their auditorium.
"It's great to go over and see how they react and see how it's been a life-changer for them. I can't tell you how happy everyone is."
Bob Scheppske also with Royal Palm Hearing is a Hearing Loop partner . He says American Disability Acts law was passed to help the hearing impaired.
"Anywhere there is an amplifier, microphone and where two or more people meet there needs to be some sort of assisted living device."
Bob says the best part is being able to give the gift of sound.
"When you see their eyes light up when they hit their t coil and their understanding everything and there are looking around like where's that sound coming from? It's an awesome feeling."
WHAT THE HEARING LOOP DOES & HOW IT WORKS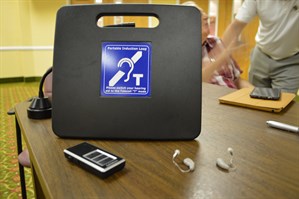 There is a copper wire that's is put around the perimeter of the room attached to a sound driver, which is attached to whatever is coming through a sound system, mic etc. in a room such as an auditorium, etc.
There is a technology in the hearing aid called a tcoil.  Many people do not even know they have a tcoil in their hearing aid.  The tcoil can be turned on in hearing aids by a hearing care professional.  It is accessed through a button on the hearing. When the patient walks into a place such as the auditorium and they have a tcoil, they can push the button and connect wirelessly. 
The way it works is kind of like two magnets attracted to each other.  The wire emits an electromagnetic signal that attaches itself to the tcoil program within the hearing aid that is attracted magnetically to that signal.  It clarifies the sound for the patient amazingly well in public place. It is amazing for the spoken word. It is the most effective way to hear in a public space.
To connect to the Hearing Loop, it's important for hearing impaired people to buy hearing aids have tcoils.
http://www.cbs12.com/community/features/extraordinary-people/stories/vid_113.shtml?wap=0