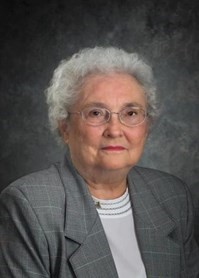 When past nursing classes were honored by the Carolinas College of Health Sciences this month, only one graduate was in attendance for the 70th anniversary of the Class of 1944.
Elinor Caddell, 91, was one of 11 graduates in that inaugural class at Charlotte Memorial Hospital (now Carolinas Medical Center), and she went on to help found the UNC Charlotte nursing school, touching the lives of thousands of nurses.
Caddell grew up in Charlotte. Her father died when she was a senior in high school, and her family had no money to send her to college. So she signed up to be a cadet nurse, which covered tuition of $150 as well as books and uniforms. By the time she graduated, World War II was drawing to a close, and her service obligation was forgiven.
She eventually got both a bachelor of science in nursing education and a master's degree at Duke University. She taught at Charlotte Memorial and later at Duke. That's where she was in 1965 when Bonnie Cone, the founder of UNC Charlotte, recruited Caddell and Edith Brocker, Duke's associate dean of nursing, to start a nursing program at UNCC. Caddell stayed for 25 years, retiring in 1989.
Before UNCC began offering master's degrees in nursing in 1987, Caddell helped Charlotte students get those degrees from UNC Chapel Hill through a creative arrangement. "We had classes in Charlotte and classes in Chapel Hill," Caddell recalled. "And the best way to get to Chapel Hill was to fly."
With a grant, Caddell chartered a twin-engine Aztec, whose pilot carried her and five students to Chapel Hill twice a week. "You know Snoopy and the Red Baron? We called ourselves the Red Barons," Caddell said.
After a year, they switched to a used van with windshield wipers that rarely worked and a bench for seating in the back. In those days before seat belts, "you slid when you stopped," said Caddell, who drove the students twice a week to Chapel Hill. "One of our student's grandmothers was so upset, she made big pillows for us to carry. She didn't want her child getting hurt sliding up and down."
Ellen Sheppard, president of the Carolinas College of Health Sciences, said former students tell "glowing stories" about Caddell. "Elinor could make that light bulb come on," Sheppard said. "At that time, graduate education was not particularly thought of as being essential. Nurses were sort of the doctor's handmaiden. ... She had to recruit students to get them to do that."
Caddell has lived for 23 years in an apartment at Matthews Glen in Charlotte, where she volunteers in the office. Over the past 15 months, she has undergone surgery, chemotherapy and radiation for breast cancer. "It was just something that had to be done," Caddell said recently. "I'm certainly not one to sit around and mope and complain. ... I just find learning so exciting. I'm curious, I guess. Or nosy. One or the other. I just want to know more and more."
http://www.charlotteobserver.com/2014/05/19/4919498/elinor-caddell-first-charlotte.html#.U5sojvldUuM