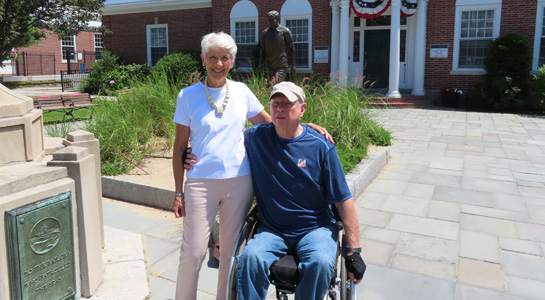 Edgewater at Boca Pointe residents Gary Elsner and Sharon Nottingham hoped to celebrate their first anniversary in a meaningful way. Unable to book an extravagant vacation with parts of Florida still under stay-at-home orders, they instead decided to travel for the special occasion– virtually.
Their first "virtual vacation" took them to the South Pacific. Their travels were exclusively online, but they sent a postcard to their family and friends to document their experience and share what they learned.
"When we came back from our first virtual trip, we shared the experience with a couple of friends," Elsner said. "One friend asked if we would mail her a postcard from the next journey, so we added virtual postcards with photos from Google images. 
"Another friend wanted the links to the documentaries we used for our travel," Elsner continued. "Then more people wanted to experience it with us, so we expanded the distribution list. In a few cases, one of us had been there previously; but in most cases, the destinations were new and exciting for both of us."
The couple has traveled the world wide web to the Himalayas, climbed Mt. Everest, adventured to Antarctica, and explored art museums and Paleolithic cave paintings in France.
"France was such an exhausting trip," Elsner joked. "When we arrived back in Boca we decided to kick back and think more deeply about our next trip. We decided to share the experience of visiting our original homes virtually and other places that shaped us."
"This took us to Central New York, Berkley, California, Kampala, and Uganda among other places. We were able to visit all these places very easily with Google Earth," Elsner added.
The couple said the best part about their virtual excursions is the interesting conversations afterwards with family and friends.
"The happiness people have shared with us about their own past and future travels has brought us even more joy than the wonderful virtual experiences on our itinerary," Elsner said.