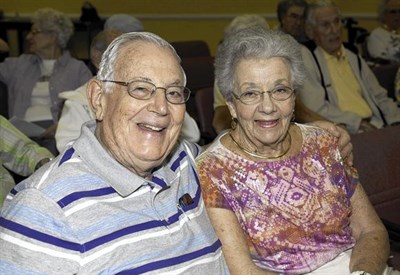 Mel Sacharow sat halfway back in a packed auditorium for a program on brains and balance.
He wanted to hear well, and he did. Pulling a well-hidden hearing aid from behind his ear, Sacharow flipped a tiny switch. That small gesture activated a t-coil that invisibly plugged him into a new, wifi-like technology called a Hearing Loop.
A copper wire installed in the ceiling of the auditorium in Edgewater Pointe Estates in Boca Raton gives residents like Sacharow wireless amplification of sound without distracting background noise.
The speaker, senior fitness expert Guy Andrews, used a microphone for his presentation, but Sacharow didn't even need it.
"It works best with movies. You don't hear ambient noise," said Sacharow, 85, president of the residents association, there with his wife Helene, 83. "I was told about it by my audiologist and they put it in."
Purchasing and installing the device was "a $13,000 investment," said Susan George, Edgewater's executive director.
The company, elequip Hearing Loop Experts, based in Warren, N.J., has also installed the Hearing Loop in Boca West, general manager Ricardo Urdaneta said.
When the company was started, one of the target areas was Florida.
"We work with hearing care professionals and they're instrumental in getting these projects," he said. "It's very popular in Europe and one of the pockets here is Manhattan. They're in most of the museums, all the subway stations have them in the information booth and new taxis will all have a Hearing Loops."
The device was installed in ACTS Retirement-Life Communities in Pennsylvania, the same nonprofit organization that runs Edgewater Pointe, on 18th Street at Powerline Road, and St. Andrews Estates in Boca.
"When a person starts losing their hearing, it takes an average of six years to get fitted with a hearing aid," Urdaneta said. "When you wait so long, the most important thing is understanding speech.
"Hearing loss is not about volume, you lose a specific frequency," he said. "In the aging process, the most common loss is the higher frequency. So you get your hearing aid, and you start comprehending more and more."
Hearing aids "have come a long way, but they're still not as good as the human ear. They can't discriminate noise," he said. "So for hearing aid wearers, their main complaint is 'I can't hear speech in a noisy situation.
"When you go to a place like a theater or a church, you have a sound system so…you can hear reverberation. You may be closer to one speaker, which also creates a small delay, so that affects the clarity of what you're listening to," he said. "When you have a Hearing Loop, it transmits the sound directly to the hearing aid with a t-coil in them. Most have it.
"The only thing you need to do is have a sign saying a Hearing Loop is in that room, switch your hearing aid to a t-coil program. That switches off the microphone. Even in the last row, the speaker is speaking right into your ear."
http://www.sun-sentinel.com/news/palm-beach/boca-raton/fl-brf-loop-0910-20140910,0,4749502.story