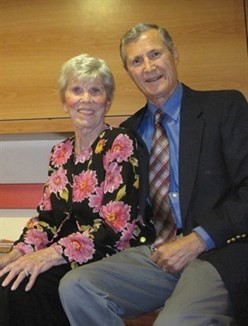 Blame it on the music. It was a chance introduction between 81-year-old Tricia, and 71-year-old Jerry Bickenbach at a dinner. After a pleasant meal with new friends, Jerry was invited to a dance at the Park Pointe Village in Rock Hill.
"That happened to be a night where there was a casual dance. So we invited him to come to the dance and enjoy the music and maybe dance a little." Tricia said.
It started off with a slow tempo between the two.
Tricia recalls, "After a while he asked me to dance. And I found out he couldn't dance very much. He just walked a little bit and sway to the music." She adds, "He didn't know at the time I was a dance teacher."
When a dance teacher sees a handsome, single man in need of dancing lessons, there's only one thing to do.
"That kind of worked out perfect." Tricia said.
Jerry was sold. He soon moved to the Village, and learned all sorts of dances including the cha-cha, rumba, waltz, and even the shag.
"It was six months later when he asked me to marry him. And I said no a number of times." She adds, "I loved things just as they were."
The retired Air Force veteran has never shied away from a challenge, but convincing Tricia he wouldn't change after marriage was proving tough.
"I wasn't sure. But I was intent on making it happen." Jerry said with a warm laugh.
True to his word, the couple has no regrets. The Bickenbachs' tied the knot in May of 2013; proving it's never too late for a second chance at love!
"We have fun every single day. I think we're so grateful that we met, every day." Tricia said.
"It's fun. It's part of enjoying the golden years." Jerry adds.
It's possible the dancing will continue for a long time to come.
http://www.wcnc.com/story/news/features/2015/02/14/cupids-arrow-strikes-local-couple-later-in-life/23407585/