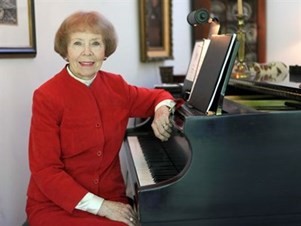 Within a few minutes of inviting a visitor into her Cokesbury Village cottage, Evelyn Swensson drops the names of a few famous people she's worked with, like novelist Mary Higgins Clark and composer Gian Carlo Menotti.
Many more follow in interviews and in "Notes: My Life With Music" (Commonwealth Books, $25), her new autobiography.
She has the chutzpah to contact people - famous or not - to make her ideas happen. So when she decides to turn "A Wrinkle in Time" into an opera, she just calls up author Madeleine L'Engle and asks for her OK. Ditto for making a musical from Earl Hamner's "Homecoming" (which also begat TV's "Waltons"). Or finding members of Congress to appear in a musical about a dinosaur.
"Nothing stops Evelyn," said Leland Kimball, who as director of OperaDelaware was her boss for many years. "When she wants to find something, she does. Usually within 10 minutes."
She credits serendipity and this belief: "If I call people cold, something wonderful will happen."
So when she and other OperaDelaware managers decide to create family programs, but no writer could be found to adapt the children's classic "Enormous Egg" into a musical, she just does it herself.
How hard could it be? Consider what she had already done. Her singing debut was at 6 in a Rotary talent show. Her professional musical debut was at 18, as a "Messiah" soloist. Her music career began in 1950, when she was named a church music director. She was the music director of four more churches, with the longest tenure at Aldersgate Methodist in Fairfax (1969-2002), where she liked to "tell exciting Biblical stories with staged productions." Along the way, she earned two degrees in music.
From 1955 to 1965, she hosted a weekly show about composers for Salisbury, Maryland's WBOC (first on radio, then on TV as well). It was recorded at home, singing, playing the piano and handling four kids.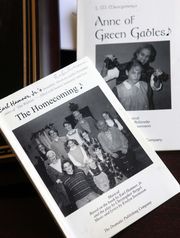 She had conducted dozens of musicals and operas, mostly for the Brandywiners and OperaDelaware, experiences she calls being a "musical midwife."
So, starting in 1993 - at an age when some people are retiring - she wrote 12 musicals, mostly for young people.
"I use music to teach other subjects and to help children deal with manners and morals, friendship and respect for others and freedom and responsibility," she writes in her memoir. Most were for OperaDelaware and its focus on well-known, wholesome works read in third to sixth grade.
Despite all the accolades for her musical career, Swensson hopes to be remembered as an educator and someone who has inspired new generations. Her memoir ends with testimonials to that point.
She was born Mary Evelyn Dickenson in Woodstock, Virginia, "a tom-boy ... going barefoot on dusty streets." Two names were common in the South then, but she grew to dislike the way they were drawled together, and since there were too many Marys around, she began using her middle name.
A 1943 song performed at the USO had this prophetic title: "The Road Is Calling." In her bio, she says she was "never in one place there long enough to get my picture in a school yearbook."
As the family followed her father's wartime service and as she followed he husband Sigurd in his 38-year DuPont Co. career, she lived in Virginia, Georgia, Kansas, Arkansas, Tennessee, Delaware and South Carolina before moving to Chadds Ford, Pennsylvania, in 1969.
"I've always enjoyed making music wherever it was needed," she said. "Every town needed me."
That included mountain music (sung and on the autoharp), religious and secular pieces in churches and the community, carols at the White House and works at the Smithsonian. She joined choral tours of France, England and Italy. Her compositions were done in settings that inspired the original children's novels, including the Metropolitan Museum of Art, the Philadelphia Zoo and the Kennedy Center.
Somehow she has had time to swim, golf and play tennis, and she has the awards to show for them.
"She was a cornerstone at Aldersgate," said Tom Short, the church's former pastor. "When you asked people about Aldersgate, they would often mention the music, and that's because of Evelyn." Among other activities, she took the choir out into the community and abroad.
"Evelyn is just as much a joy [at Cokesbury] as Aldersgate, said Short, a neighbor. "Energy. Energy. Energy."
She is definitely not retired.
"It's another section of my life that I create," she said of her activities today. She keeps a pad by her bed to record all those ideas first thing, and she credits her faith for her continued creativity.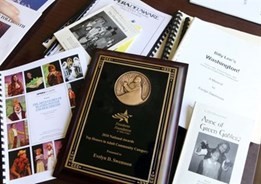 "God gave me my brain, and he's sending me messages that I call capital G mail."
She is writing a work about a Revolutionary War woman. For the Delaware Humanities Forum, she offers programs that reveal 12 women - like Maria von Trapp and Mary Lincoln - in words and song.
Sigurd, her husband of 64 years, passed on this year. They planned his funeral with joyous, not funereal music. Noting that she had two grandmothers who lived to be 100, she has no plans for the music at her own funeral, other than this: "I'm sure choirs will sing, and the brass will play."
In her own words
Here's how Evelyn Swensson crafts her adaptations: "First, write the book as a a play with dialogue and stage directions. Then decide what part of the script can be sung. Choose a musical style for each character. Write poems, describing how the lead characters are thinking and feeling. Sing the poems to find the important words and where the melody should rise and fall. Then set the poems to music. Make a chart of all musical numbers, including keys, to ensure variety."
http://www.delawareonline.com/story/life/2014/07/02/crossroads-heeds-g-mail/12111905/