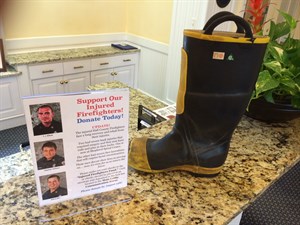 In nearly a month since a ladder truck fell, residents of Hall County have raised more than $15,000 for three injured Hall County firefighters.
Misty Waldrop, a member services representative with Hall County Community Credit Union, said Thursday the fund totals nearly $15,500 since the account's inception on July 23. Multiple organizations have rallied around firefighters Will Griffin, TJ Elliott and Stephen Jackson of Fire Station No. 16 to help with any financial distress.
Living in a high-rise community, resident Augie DeAugustinis of Lanier Village Estates said he feels a connection to the firefighters because of the fire station's tireless service.
"This has been an issue of the county getting a ladder truck up here that's close enough to serve Lanier Village on short notice that has been something of major concern for many, many months," he said.
DeAugustinis and the community set a boot at the reception desk for donations until today, with DeAugustinis keeping a running total daily. The community fundraiser has reached $6,100 as of Thursday evening, and that total will be even higher when it is donated to the credit union.
"We have a very close relationship with them, because being a retirement community, they're out here almost on a daily basis, for one reason or another," he said. "So when this accident happened, we took it to heart."
In addition to the Lanier Village Estates community, businesses and organizations like CrossFit have held fundraisers. On Aug. 2, CrossFit Northeast Georgia reached a total of $2,780, according to Hall County Fire Services.
This past Saturday, CrossFit Max Kane raised $3,575 at the Back to School Brawl. A patron who works at Northeast Georgia Medical Center tipped off owner Jeremy Warner of the incident, leading to the fundraiser.
"We have a good amount of members in our gym that are EMS or Hall County firefighters or a big core group that work at Northeast Georgia Medical Center as well," Warner said.
A guitar signed by Kix Brooks of country music duo Brooks and Dunn has been donated to Hall County for possible raffling by Help the Good Guys, Waldrop said.
The firefighters fell 44 feet in a training exercise on July 22 at the Allen Creek training center. Griffin was taken by ambulance to Northeast Georgia Medical Center, while Elliott and Jackson were airlifted to Grady Memorial Hospital in Atlanta. Earlier this month, Griffin was discharged from the Gainesville hospital and transferred to the Shepherd Center spinal cord injury unit in Atlanta.
Hall County Fire Services Capt. John Waldrop praised the response of the community.
"The outpour from the citizens has been wonderful ... trying to do fundraisers," he said. "And that's our concern right now is just the well-being of these guys, getting them back healthy."