Intergenerational relationships are a great way to help students and seniors physically, emotionally and cognitively. Some of the benefits for students include increased self-worth, a boost in self-esteem, improved grades, increased involvement in school work and an enhanced sense of belonging within the community. Benefits for seniors are improved health, less injuries, increased self-worth, feelings of belonging and being needed. Not only are intergenerational relationships important to seniors and students, but so is music. Music is a universal tool that makes people feel better regardless of age.
"By providing an avenue for these relationships to form, there are many positive outcomes for each individual involved," says Alissa Zemering, Recreational Coordinator for Willowbrooke Court at Edgewater Pointe Estates. Zemering, who graduated with a Master's in Creative Therapy and is a Registered Creative Arts Therapist, focuses on creating opportunities to build relationships between residents and students in nearby communities. She expresses that at any age it is important to stay  connected. Some of the best avenues in making connections are through intergenerational relationships, creative arts, musical experiences, dance, exercise, socialization and technology.
Local volunteers and performers have been invited to join the residents at Edgewater Pointe Estates, creating an environment where children and young adults can grow musically and emotionally with the positive support from seniors. Often times after a visit, the children and young adults are eager to learn new pieces of music to further relate to their audience. Practicing a musical instrument and singing can lead to numerous structural changes in the brain. These changes correlate with developing abstract thinking and improvements in certain motor and auditory skills in children.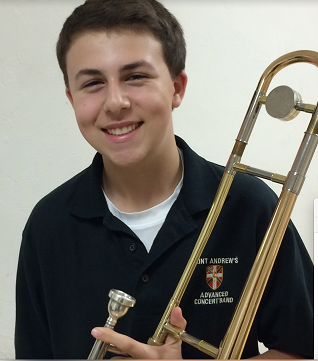 One such volunteer, Andrew Weiss, visits the retirement community on Saturdays. Weiss, (a high school sophomore at Saint Andrew's School in Boca Raton,), plays his trombone for the residents. Weiss often stays longer to converse with residents and assist during other stimulating activities. This experience motivated Weiss to provide music that continues engaging and entertaining residents every week.
Due to the positive feedback, emotional impact and joy he experiences, Weiss decided to form a program called "Project Music, Mind & Beyond" at his school. This project will be part of the Saint Andrew's School Band Honor Society and will dedicate their time to Edgewater Pointe Estates as one of their community service projects. He has and will continue to recruit members of his band and students in his school to dedicate their time playing music at the retirement community. 
Another student volunteer program at Edgewater features alumni and current high school students from West Boca High Schools Vanguard Band. These students dedicate their band time performing for Edgewater Pointe Estates. Zemering recalls, "When I observe the band playing, I see smiles all around the room. Each student demonstrates talent, kindness, friendliness and excitement to perform for the residents. Everyone involved cherishes the time at Edgewater."
By creating the opportunity for students and seniors to form relationships, each individual learns something new about life or about one another during every interaction. This is very important for developing students', as well as for the seniors', health and wellness.